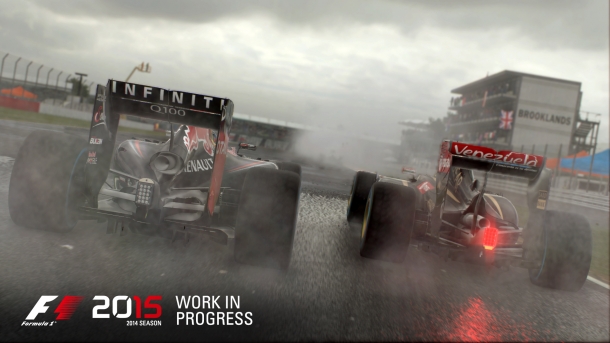 Codemasters has announced F1 2015. The latest entry in its F1 racing series will be coming to PlayStation 4, Xbox One and PC for the first time this June.

As the first new generation entry in the series it will bring with it improved graphics, handling, physics, and a more immersive atmosphere:

"F1 2015 is set to take gamers closer to the real-world experience of racing in the world's most glamorous, exciting and prestigious motorsport thanks to a brand new version of Codemasters' proprietary EGO game engine. In addition to spectacular visual fidelity, F1 2015 offers a significant step forward in the physics-based handling model of the game, which is designed to be inclusive for both seasoned players and those new to the series. The handling model offers enhancements and additions in over 20 areas, including engine and transmission, aerodynamics, fuel tank, force feedback, suspension and most notably a brand new tyre physics model, to recreate the breathtaking handling characteristics of the world's fastest and most responsive racing cars.

F1 2015 will deliver a truly immersive experience thanks to an all-new 'broadcast presentation' style that recreates the unique race day atmosphere of a Grand Prix, complete with podium and grid sequences."