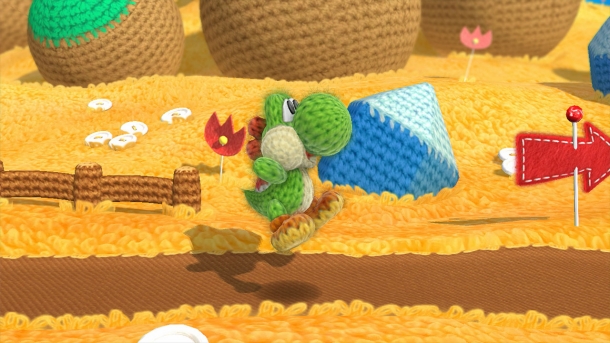 Nintendo Life has managed to get some play time with the Wii U's upcoming 2D platformer, Yoshi's Woolly World, and released a handful of new screenshots for the game.

The site also revealed a number of new details for the game, including:

Yoshi has a traditional health bar.
Yoshi Recovers health by collecting hearts.
Yoshi's tongue is the main method of taking down enemies.
Yoshi unravels them and turns them into balls of wool.
Yoshi uses eggs to bind larger enemies made of materials other than wool.
The player can uncover hidden areas simply by unravelling a loose knot. Doing so reveals secret passageways or hidden items.
The game has dozens of hidden items, these include: the traditional Flowers, new items such as Beads, Stamp Patches (hidden within certain Beads), and Wonder Wools.
Mellow Mode - you control Winged Yoshi whose Flutter Jump is replaced by the ability to float at Yoshi's current height indefinitely.
You can still take damage and fail in Mellow Mode.
You can have a friend join in the fun as a second Yoshi.
If you run out of wool in multiplayer, Yoshi can be used as a short-range substitute.

Yoshi's Woolly World releases on the Wii U in June 26th in Europe. North America currently only has a "fall" window for release.