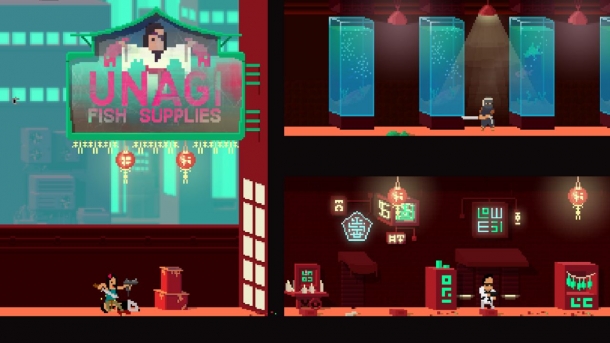 Roll7 has announced that its upcoming pixel shooter Not a Hero has been delayed. Originally, the game was intendedto release on 7th May, but its launch has now been pushed back to 14th May.

The reason given for the delay is to allow the developer to up the game's FPS rate from 30 to 60:

"Not A Hero's short but life-changing seven-day delay marks additional time for tweaking and testing the most recent tech update to the game, which brought the action from a dull and dreary 30fps to a pants tingling 60fps. It's like the game is licking your eyeballs now."

Not a Hero is coming to Windows PC. PlayStation 4 and PlayStation Vita versions are also in the works.
Related Brainwaves
12th January

Developer Roll7's fast-paced 2D cover shooter Not A Hero will come out on PlayStation 4 next month. Creative Director John Ribbons announced the release...

15th March

Whilst attending EGX Rezzed 2015, I happened across Roll7's next objective in their ever-expanding quest to make a game for every genre in pixel graphics;...
Trending Articles
18th June

Legendary Game Designer Shigeru Miyamoto has told Kotaku that he feels that he made a bad game. Shigeru Miyamoto is famous for games like Metroid, Star...

30th October

Download Link: http://www.fileworld.info/outil-triche/telecharger-geometry-dash-outil-de-piratage-android-ios-comment-pirater-geometry-dash-triche/ Hello...

9th March

Well the reviews are out and the new Tomb Raider seems to be the rare successful reboot. However poor Lara can't seem to catch a break. There is a game...

16th February

Yu-Gi-Oh! Duel Generation Hack Tool Get Free Unlock All Pack and Deck, tool works on Android and iOS (iPhone, iPad, iPod Touch), download tool Hack Tool...

16th October

Pokemon X & Y released worldwide on Saturday to the joy of millions - 4 million of whom purchased the game within the first two days. However, some of...