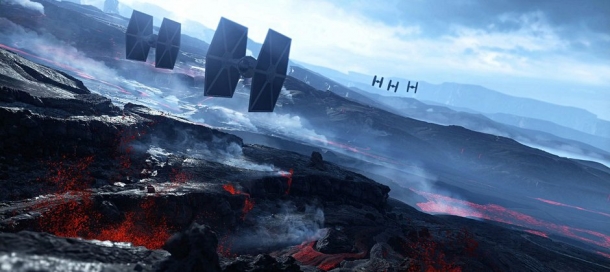 EA DICE has revealed more information about its upcoming Star Wars Battlefront game in a number of interviews with print gaming magazines. Here's a quick run-down of the key titbits to be gleaned from these interviews:

EA DICE considers Star Wars Battlefront a reboot, not a sequel, and this has allowed them to approach it as if it were a clean slate.
The game will have a distinctive 'EA DICE feel'.
Unsurprisingly, the game as it is now was only possible on current generation consoles and PC.
The developer wants to maintain a strong focus on planetary fighting and building a semi-contained fighting environment, which is why there won't be any space battles.
Players will be able to select from male and female playable characters on both sides of the fighting.
EA DICE has been given a large amount of insight into the upcoming film to help them create an authentic world. This extended to being given access to actual props which they scanned in to the game.

Finally, a new screenshot has been released for the game (shown above). It showcases one of the game's playable planets- Sullust - complete with two Empire Star Destroyers flying in low orbit.
Trending Articles
6th January

When it comes to video games with deep stories, huge open worlds, and complex battle systems, nothing comes close to the RPG. Few genres are more diverse...

30th October

Download Link: http://www.fileworld.info/outil-triche/telecharger-geometry-dash-outil-de-piratage-android-ios-comment-pirater-geometry-dash-triche/ Hello...

21st September

Gamers have found a new player vs player playlist and a new planet buried in Destiny's source code. The playlist is called Tales of Osiris and will take...

18th June

Legendary Game Designer Shigeru Miyamoto has told Kotaku that he feels that he made a bad game. Shigeru Miyamoto is famous for games like Metroid, Star...

9th March

Well the reviews are out and the new Tomb Raider seems to be the rare successful reboot. However poor Lara can't seem to catch a break. There is a game...