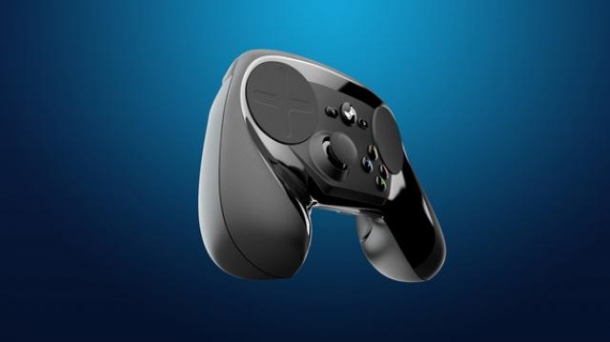 Valve has announced the release date for its long-awaited Stream controller. The controller will be released on October 16 in limited quantities for those who pre-order it, while it will officially launch on November 10, alongside Steam Machines and the Steam Link.

"Experience a new level of precise control for your favorite games. The Steam Controller lets you play your entire collection of Steam games on your TV—even the ones designed without controller support in mind. The Steam Controller features dual trackpads, HD haptic feedback, dual-stage triggers, back grip buttons, and fully-customizable control schemes. Find your favorite mappings in the Steam Community, or create and share your own.

We've improved upon the resolution and fidelity of input that's possible with traditional gamepads. Built with high-precision input technologies and focused on low-latency, wireless performance, the Steam controller enables you to experience your games in powerful new ways."

The controller is priced at $49.99, while the Steam Link and controller bundle is priced at $99.98. Both can be pre-ordered on Steam right now.

Here are the complete specifications for the controller:

Dual trackpads
HD haptics
Analog stick
Dual-stage triggers, each with 10° of travel, a magnetic flux sensor, and a tactile switch
Gyroscope and accelerometer sensors enabling tilt-to-steer racing wheel functionality and other motion-controlled input
Configurable controls
Local multiplayer capability, as supported by games
Wired or wireless (dual mode)
USB 2.0 via Micro USB port (cable not included)
Estimated 5 meters of wireless communications range. Actual results may vary.
Provides up to 80 hours of standard game play using the included AA batteries during preliminary testing. Battery life will vary based on usage and other factors, such as type of batteries used. Actual results may vary.

Related Brainwaves
14th October

The Gabe Newell Simulator is a real game and it is available now on Steam Early Access. "Gabe Newell Simulator is a game for those who have always dreamed...
Trending Articles
17th February

Dragon Ball Z: Extreme Butoden has apparently been announced in the latest edition of V Jump magazine in Japan. It is a 2D fighter and will be released...

30th October

Download Link: http://www.fileworld.info/outil-triche/telecharger-geometry-dash-outil-de-piratage-android-ios-comment-pirater-geometry-dash-triche/ Hello...

18th June

Legendary Game Designer Shigeru Miyamoto has told Kotaku that he feels that he made a bad game. Shigeru Miyamoto is famous for games like Metroid, Star...

6th January

When it comes to video games with deep stories, huge open worlds, and complex battle systems, nothing comes close to the RPG. Few genres are more diverse...

5th November

Fallout: Shadow of Boston and Fallout: The Ultimate Collection trademarks have been filed at the German patent office. The Office for Harmonization in...