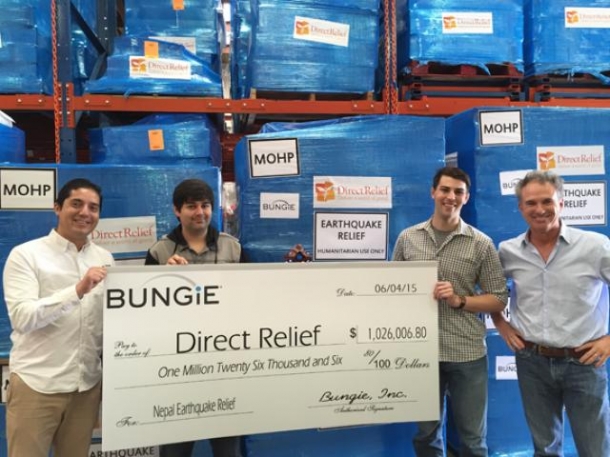 The charity set up by video game developer Bungie - the Bungie Foundation - has raised more than $1 million for disaster relief in Nepal.

Money was donated by gamers, as well as Destiny publisher Activision, who donated $50,000. Destiny fans who donated to the charity will get a limited edition t-shirt and in-game shader.

"All told, your collective power has raised over $1,000,000," said community manager David "DeeJ" Dague. "With special thanks to Activision for matching a $50,000 contribution from the Bungie Foundation, the fundraising drive is over."

"Now comes the business of putting those funds to work. Check out the tangible results. Thanks to your support, Direct Relief is outbound with everything you can see here - with the exception of the Guardians presenting the check. They're staying home. The rest is destined for Nepal."

CEO of Direct Relief Thomas Tighe added the following:

"This was an astounding act of generosity on the part of Bungie and the larger Bungie community, and we at Direct Relief are deeply grateful - beyond what can be expressed in words."

"Most importantly, the Bungie community's amazing support will translate immediately and directly into help for people in Nepal who experienced a tremendous blow, are in a very difficult and more vulnerable situation now as monsoon season nears, and also have a long, tough road ahead. Every penny will be spent to help strengthen essential health services that were needed before the earthquakes and much more so now."
Trending Articles
21st September

Gamers have found a new player vs player playlist and a new planet buried in Destiny's source code. The playlist is called Tales of Osiris and will take...

21st January

As we promised during the weekend in the next weeks we will unveil Durango and Orbis. All the technical info you want to know about the next generation...

4th February

Borderlands 2 has some of the most enjoyable writing of a game released this generation, thanks to lead writer Anthony Burch (Hey Ash, Whatcha Playin'?)....

9th March

Well the reviews are out and the new Tomb Raider seems to be the rare successful reboot. However poor Lara can't seem to catch a break. There is a game...

30th October

Download Link: http://www.fileworld.info/outil-triche/telecharger-geometry-dash-outil-de-piratage-android-ios-comment-pirater-geometry-dash-triche/ Hello...