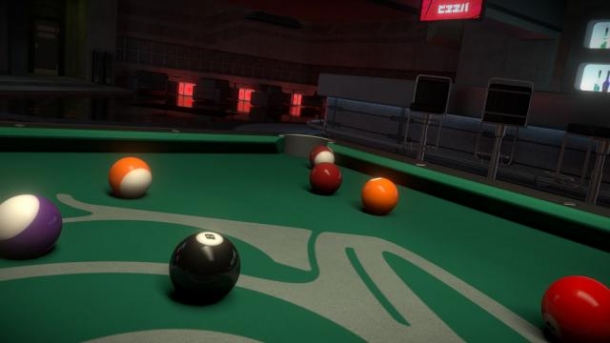 The free-to-play pool game Hustle Kings is out now for the PlayStation 4 in the US.

XDev associate producer Neil McPhillips said the following about this free-to-play version:

"The core package comes with a healthy amount of content including Trophy support, a training mode, career, and the online league. The league is built around our in-game currency, HKC (Hustle King Credits) which can be won and lost on games — the more games you win, the more you earn and the higher you can go in the league tiers.

There are lots of ways to earn HKC in the game. New players will be given a welcome bonus, there is a new daily challenge every day where you get 5 chances to win big in a unique puzzle or trick shot game, you'll earn small amounts as you play by potting balls and pulling off tough shots, and when you run out we'll be sure to give you a booster the following day.

For players who don't want to have to earn and spend HKC to play, we also offer a separate upgrade package where with a one-time purchase you can play local offline games and challenge other players with the upgrade package to private online games, no HKC needed. This will allow you to spend your HKC on other things like a fancy new cue or ball set."

Hustle Kings launched a little while ago in Europe and more than 12 million balls have been potted. In total gamers have spent over 4,300 days playing the game.
Related Brainwaves
8th June

Sony has announced all of the games that will be releasing this week on the PlayStation 4, PlayStation 3, and PlayStation Vita in the US. There are six...
Trending Articles
18th June

Legendary Game Designer Shigeru Miyamoto has told Kotaku that he feels that he made a bad game. Shigeru Miyamoto is famous for games like Metroid, Star...

30th October

Download Link: http://www.fileworld.info/outil-triche/telecharger-geometry-dash-outil-de-piratage-android-ios-comment-pirater-geometry-dash-triche/ Hello...

9th March

Well the reviews are out and the new Tomb Raider seems to be the rare successful reboot. However poor Lara can't seem to catch a break. There is a game...

28th November

These are some tips and/or tricks that almost everyone can use for Glory of Generals. 1. Upgrade your Commander first. The Commander is very important...

6th January

When it comes to video games with deep stories, huge open worlds, and complex battle systems, nothing comes close to the RPG. Few genres are more diverse...