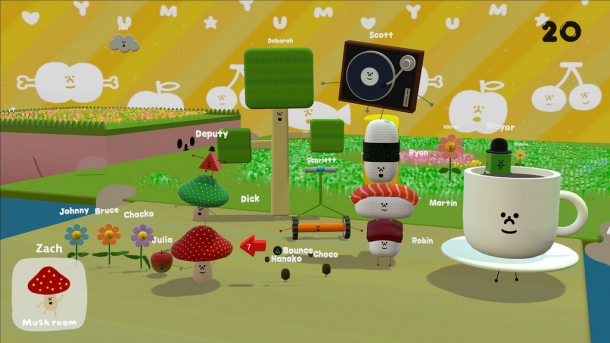 Today we got an official look at the first gameplay footage for Wattam.

Wattam is Keita Takahashi's (Katamri series, Noby Noby Boy) newest game for the PS4, and the chances are you're quite confused and mesmerized by the above trailer. Luckily for us, the creators of the game have released a Q&A to try and clear up any confusion:

What is going on?

"It's an epic story which we won't spoil here, but after a series of unfortunate events, there was a gigantic explosion which spread the people of Wattam all across the galaxy. As a result of this crazy BOOM, only a few people, a few pieces of world, and the Mayor are left when you begin the game."

What is the games point?

"Your task is to help the Mayor and Deputies bring all the people and places of Wattam back together again."

How do you bring Wattam back together?

"By climbing, stacking, and chaining groups of people! Once you have a big collection, you can detonate it using the Mayor and Deputies. This will attract people who are hanging out in space, searching for their long lost home. There will be several worlds to unlock, starting with the 4 Seasons. The world you are seeing in these screenshots is Spring."

Explode to attract people and grow the world?

"It is a bit strange — this idea of making a big BOOM in order to bring people closer together… but these explosions will be so stunning that *anyone* would want to get a closer look. By building crazy chains and stacks, and then blowing them up, you will fill the sky with joy. This is what unlocks new people, new levels and eventually new worlds to play in."

Is that really fun?

"But of course! First of all, connecting people lets you experiment with the physics of the world in interesting and silly ways. Second — you can see how their special actions (moves like "Grow" or "Bounce" or "Party") interact. Last but not least, each character has a unique riff that they contribute to a larger melody mashup when they connect. So you actuallycreate the musical landscape of the Wattam as you play. F-f-fresh!"

How is Wattam challenging?

"Each world has a series of characters that are hidden or asleep. To discover them and wake them up, you will need to experiment with combinations of people. A good example is the Flower people — who start off as sleeping sprouts until you rain on them with the Cloud. A lot of the game will progress in this fashion. There are also special "boss" characters, who are hard to connect with. But we will talk more about that next time…"

Anything else?

"Yes! You will be able to play the game all the way through on your own – but you can also play with friends and family, while sitting on the couch together. This means you can work collectively to achieve Wattam's goals and unlock the story — or just spend time running around, building crazy shapes and exploding to your heart's content."
Related Brainwaves
29th November

Sony recently announced lifetime shipment figures for the PlayStation 4 have surpassed 102.8 million units as of September 30, 2019. That puts shipment...

26th August

Despite the many post apocalyptic open-world games available today, I'm yet to play one inspired by kung-fu movies. Enter Experiment 101's Biomutant, a...