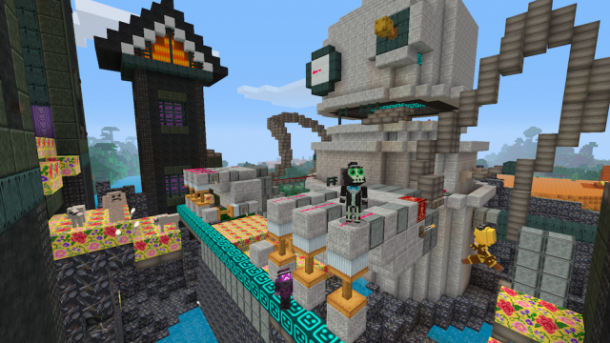 The console versions of Minecraft are receiving the 1.17 update today.

The update boasts lots of new features, including customizable super flat worlds, new blocks, trees, fences, gates, and doors.

Here is the update list:

Offended by mountains and caverns? Worry not, strange crafter, because now you have the option to customise your super flat worlds so they're only as vertical as you desire.
New blocks! Oak, Spruce, Birch, and Jungle wood types. Fences, Gates, and Doors! Create the log cabin of your dreams with 1.17/TU25/CU14 .
A heap of new game options! Change the game mode, difficulty, time, player spawn position, ambient cave sounds, and weather without leaving your game session. Very handy.
Classic crafting! Now console players get to craft items just like their PC buddies on Java Minecraft. Some players find this style of creation more satisfying. Check it out.
New stuff! Iron Trapdoors, Inverted Daylight Sensors, Book & Quills, and Stained Glass have arrived. Use them wisely, and for good, please.


Mojang has also announced that the PlayStation editions of Minecraft will be getting an exclusive LittleBigPlanet update today. It features skins for the following characters of the game - Sackboy, Sackgirl OddSock, Toggle, and Swoop. There is also a custom texture pack and a pre-built world. It will be available for £3.29/€3.99.

Finally, all of the console versions of the game will be getting a Minecon 2015 Skin Pack. It features the four capes from all of the Minecon's that have taken place thus far and will available to download starting on July 15th for just 15 days.
Related Brainwaves
26th August

Despite the many post apocalyptic open-world games available today, I'm yet to play one inspired by kung-fu movies. Enter Experiment 101's Biomutant, a...