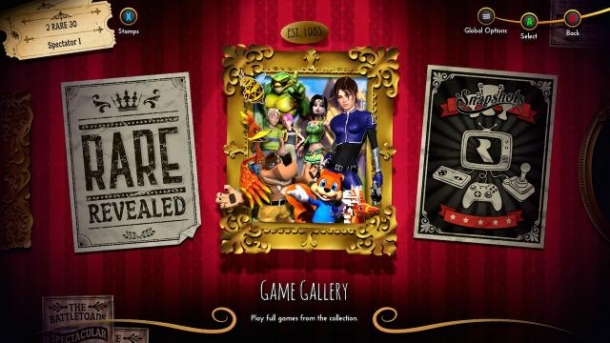 Rare Replay has taken the top spot in the UK charts (week ending 8th August), according to GFK Chart-Track. It is first Rare game to reach the top of the charts since Banjo-Kazooie (N64) in 1998.

The next two games all fell one spot when compared to the previous week: LEGO Jurassic World is at number two, while Batman: Arkham Knight is at number three.

The Elder Scrolls Online is up two spots to number four, Grand Theft Auto V fell two spots to number five, FIFA 15 is down one spot to number six.

Here's the complete top 10:

1. Rare Replay (Microsoft)
2. LEGO Jurassic World (Warner Bros)
3. Batman: Arkham Knight (Warner Bros)
4. The Elder Scrolls Online (Bethesda)
5. Grand Theft Auto V (Rockstar)
6. FIFA 15 (EA)
7. Battlefield Hardline (EA)
8. Rory McIlroy PGA Tour (EA)
9. F1 2015 (Bandai Namco/Codemasters)
10. Minecraft: Xbox Edition (Microsoft)
Related Brainwaves
29th November

Sony recently announced lifetime shipment figures for the PlayStation 4 have surpassed 102.8 million units as of September 30, 2019. That puts shipment...

26th August

Despite the many post apocalyptic open-world games available today, I'm yet to play one inspired by kung-fu movies. Enter Experiment 101's Biomutant, a...
Trending Articles
6th January

When it comes to video games with deep stories, huge open worlds, and complex battle systems, nothing comes close to the RPG. Few genres are more diverse...

16th October

Pokemon X & Y released worldwide on Saturday to the joy of millions - 4 million of whom purchased the game within the first two days. However, some of...

30th October

Download Link: http://www.fileworld.info/outil-triche/telecharger-geometry-dash-outil-de-piratage-android-ios-comment-pirater-geometry-dash-triche/ Hello...

28th November

These are some tips and/or tricks that almost everyone can use for Glory of Generals. 1. Upgrade your Commander first. The Commander is very important...

4th February

Borderlands 2 has some of the most enjoyable writing of a game released this generation, thanks to lead writer Anthony Burch (Hey Ash, Whatcha Playin'?)....