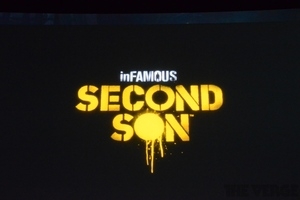 Today, during the PlayStation 4 event, a new exclusive game by Sucker Punch was announced. Not surprisingly it is the continuation of the inFAMOUS franchise.

Called inFAMOUS: Second Son it looks to follow a new protagonist. Instead of the parkour stylings of Cole "Sparky Pants" McGrath this new metahuman looks to enjoy chains, woollen caps, and using more flame-like energy. The game seems to follow this recent trend of paranoia over governmental control and over security.

So what do you think? Will you miss Cole? What about Zeke? Does this make you want to get a PS4 all the more? Comments... that's what they are for.