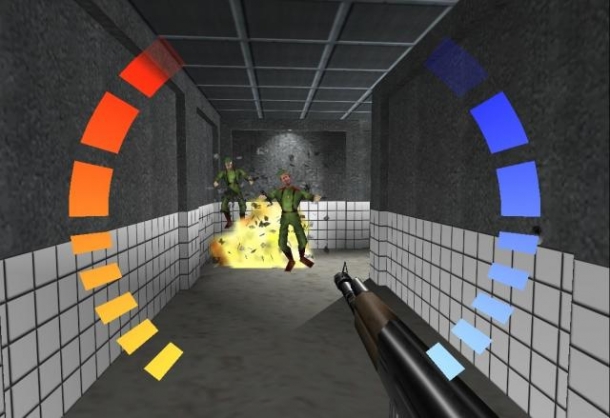 GoldenEye 007 for the Nintendo 64 was one of the platform's most well regarded releases, but apparently the game could have been a whole lot different.

"Bond is a violent franchise and making that fit with Nintendo, which is very much family-friendly, was a challenge," the game's co-designer, Martin Hollis, told The Guardian.

"For a while we had some gore, it was just a flipbook of about 40 textures, beautifully rendered gore that would explode out. When I saw it the first time, I thought it was awesome, it was a fountain of blood, like that moment in the Shining when the lift doors open. Then I thought, hmm, this might be a bit too much red."

Nintendo developer Shigeru Miyamoto went so far as to fax a message to developer Rare requesting that the company tone down the violence in the game and even eliminate close-up killing.

"One point was that there was too much close-up killing – [Miyamoto] found it a bit too horrible," added Hollis. "I don't think I did anything with that input. The second point was, he felt the game was too tragic, with all the killing. He suggested that it might be nice if, at the end of the game, you got to shake hands with all your enemies in the hospital."
Related Brainwaves
29th November

Sony recently announced lifetime shipment figures for the PlayStation 4 have surpassed 102.8 million units as of September 30, 2019. That puts shipment...

26th August

Despite the many post apocalyptic open-world games available today, I'm yet to play one inspired by kung-fu movies. Enter Experiment 101's Biomutant, a...
Trending Articles
4th February

Borderlands 2 has some of the most enjoyable writing of a game released this generation, thanks to lead writer Anthony Burch (Hey Ash, Whatcha Playin'?)....

18th June

Legendary Game Designer Shigeru Miyamoto has told Kotaku that he feels that he made a bad game. Shigeru Miyamoto is famous for games like Metroid, Star...

30th October

Download Link: http://www.fileworld.info/outil-triche/telecharger-geometry-dash-outil-de-piratage-android-ios-comment-pirater-geometry-dash-triche/ Hello...

9th March

Well the reviews are out and the new Tomb Raider seems to be the rare successful reboot. However poor Lara can't seem to catch a break. There is a game...

16th February

Yu-Gi-Oh! Duel Generation Hack Tool Get Free Unlock All Pack and Deck, tool works on Android and iOS (iPhone, iPad, iPod Touch), download tool Hack Tool...