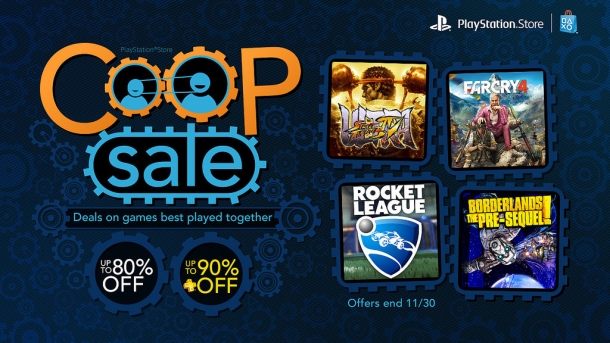 Sony's latest PlayStation Network sale is live. The theme is cooperative gameplay and the sale, which ends on November 30th, features some highly popular titles like Rocket League, Battlefield: Hardline, and the Borderlands series.

On top of discounts of up to 90% for PlayStation Plus subscribers, you can also make use of a 10% discount code (shown below) on a single overall order.

Here's a list of games included in this particular sale:

Title Platform Sale Price Plus Price Original Price
Battlefield 4 PS4 $15.00 $12.00 $29.99
Battlefield 4 Premium Edition PS4 $24.00 $18.00 $59.99
Battlefield Hardline PS4 $21.99 $19.99 $39.99
Battlefield Hardline Deluxe Edition PS4 $24.74 $22.49 $44.99
Battlefield Hardline Ultimate Edition PS4 $49.49 $44.99 $89.99
Borderlands: The Handsome Collection PS4 $27.00 $24.00 $59.99
Brothers: A Tale Of Two Sons PS4 $10.00 $8.00 $19.99
Castlestorm Definitive Edition PS4 $6.00 $4.50 $14.99
Defense Grid 2 PS4 $6.00 $4.50 $14.99
Diablo III: Reaper Of Souls – Ultimate Evil Edition PS4 $34.79 $29.39 $59.99
Evolve PS4 $18.00 $16.00 $39.99
Evolve Digital Deluxe PS4 $22.50 $20.00 $49.99
Far Cry 4 PS4 $30.00 $19.80 $59.99
Fluster Cluck PS4 $3.00 $1.50 $9.99
Lara Croft And The Temple Of Osiris PS4 $8.00 $6.00 $19.99
Lara Croft And The Temple Of Osiris & Season Pass Pack (Deluxe Edition) PS4 $11.60 $8.70 $28.99
Overruled! PS4 $6.00 $4.50 $14.99
Payday 2: Crimewave Edition PS4 $25.00 $20.00 $49.99
Penarium PS4 $6.99 $5.99 $9.99
Rayman Legends PS4 $20.00 $16.00 $39.99
Rocket League PS4 $13.99 $11.99 $19.99
Towerfall Ascension PS4 $6.00 $4.50 $14.99
Trine 2: Complete Story PS4 $4.00 $2.00 $19.99
Ultra Street Fighter IV PS4 $17.49 $14.99 $24.99
Army Of Two: Fortieth Day PSP $4.00 $2.00 $19.99
Army Of Two The Devil's Cartel PS3 $4.00 $2.00 $19.99
Battlefield 4 PS3 $10.00 $8.00 $19.99
Battlefield 4 Premium Edition PS3 $24.00 $18.00 $59.99
Battlefield Hardline PS3 $21.99 $19.99 $39.99
Battlefield Hardline Deluxe Edition PS3 $24.74 $22.49 $44.99
Battlefield Hardline Ultimate Edition PS3 $49.49 $44.99 $89.99
Bomberman Party Edition (PSone Classic) PS3 $2.40 $1.80 $5.99
Borderlands 2 PS3 $6.00 $5.00 $19.99
Borderlands: Borderlands: Ultimate Edition PS3 $9.00 $7.50 $29.99
Borderlands: The Pre-sequel PS3 $21.99 $19.99 $39.99
Bust-a-move 4 (PSone Classic) PS3 $2.40 $1.80 $5.99
Castle Crashers Trial PS3 $4.50 $3.00 $14.99
Castlestorm Complete Edition (PS3 & Vita) PS3 $4.50 $3.00 $14.99
Chivalry: Medieval Warfare PS3 $7.94 $5.84 $14.99
Contra: Shattered Soldier (PS2 Classic) PS3 $2.50 $1.50 $9.99
Diablo III: Reaper Of Souls – Ultimate Evil Edition PS3 $23.19 $19.59 $39.99
Double Dragon Neon PS3 $2.00 $1.00 $9.99
Dragon Ball Z: Battle Of Z PS3 $12.00 $9.00 $29.99
Dragon's Crown PS3 $20.99 $17.99 $29.99
Far Cry 4 PS3 $30.00 $19.80 $59.99
Final Exam PS3 $5.00 $2.50 $9.99
Jeopardy! (PS3 Full Game – D&D) PS3 $8.00 $4.00 $19.99
Kane & Lynch 2: Dog Days PS3 $4.00 $2.00 $19.99
Kane & Lynch: Dead Men PS3 $3.00 $1.50 $14.99
Lara Croft And The Guardian Of Light Trial PS3 $4.50 $3.00 $14.99
Max Payne 3 (PS3 Full Game) (D&D) PS3 $6.00 $5.00 $19.99
Max Payne 3 (PS3 Full Game) (D&D): Max Payne 3: The Complete Edition PS3 $7.50 $6.00 $29.99
Max Payne 3 Complete & Red Dead Redemption Bundle PS3 $6.60 $5.10 $29.99
Max Payne 3: Max Payne 3 Rockstar Pass PS3 $4.50 $3.75 $14.99
Metal Slug X (PSone Classic) PS3 $2.40 $1.80 $5.99
Midnight Club Los Angeles: Complete Edition – Digital PS3 $6.00 $5.00 $19.99
MX vs. ATV: Alive – Digital PS3 $8.00 $4.00 $19.99
MX vs. ATV Supercross PS3 $12.00 $6.00 $29.99
Ratchet & Clank: All 4 One PS3 $10.49 $7.49 $14.99
Rayman Legends (PS3 Full Game) PS3 $20.00 $16.00 $39.99
Realms Of Ancient War PS3 $3.00 $2.00 $9.99
Red Faction: Guerrilla Digital PS3 $8.00 $4.00 $19.99
Resident Evil 5 Gold Edition (Digital) PS3 $10.50 $7.50 $29.99
Resident Evil 6 PS3 $8.00 $6.00 $19.99
Resident Evil Revelations PS3 $12.00 $9.00 $29.99
Serious Sam 3: BFE PS3 $5.00 $2.00 $19.99
Tales From Space: About A Blob Trial PS3 $4.00 $2.00 $7.99
Tales From Space: About A Blob Trial: Tales From Space: About A Blob Premium Bundle PS3 $5.00 $2.50 $9.99
Teenage Mutant Ninja Turtles: Out Of The Shadows PS3 $5.85 $4.95 $14.99
Trine 2 PS3 $3.00 $1.50 $14.99
Ultra Street Fighter IV PS3 $20.00 $16.00 $39.99
Wheel Of Fortune (PS3 Full Game – D&D) PS3 $8.00 $4.00 $19.99
Dragon Ball Z: Battle Of Z PS Vita $8.00 $6.00 $19.99
Dragon's Crown PS Vita $20.99 $17.99 $29.99
Rayman Legends PS Vita $13.50 $10.80 $26.99
Resident Evil Revelations 2 PS Vita $20.99 $17.99 $29.99
Unit 13 PS Vita $10.49 $7.49 $14.99
Related Brainwaves
29th November

Sony recently announced lifetime shipment figures for the PlayStation 4 have surpassed 102.8 million units as of September 30, 2019. That puts shipment...

26th August

Despite the many post apocalyptic open-world games available today, I'm yet to play one inspired by kung-fu movies. Enter Experiment 101's Biomutant, a...
Trending Articles
18th June

Legendary Game Designer Shigeru Miyamoto has told Kotaku that he feels that he made a bad game. Shigeru Miyamoto is famous for games like Metroid, Star...

21st September

Gamers have found a new player vs player playlist and a new planet buried in Destiny's source code. The playlist is called Tales of Osiris and will take...

21st January

As we promised during the weekend in the next weeks we will unveil Durango and Orbis. All the technical info you want to know about the next generation...

25th July

The next installment of the Super Smash Bros series is in development. Ever since a few days ago, people were excited to see it. Now, fans of the series...

16th February

Yu-Gi-Oh! Duel Generation Hack Tool Get Free Unlock All Pack and Deck, tool works on Android and iOS (iPhone, iPad, iPod Touch), download tool Hack Tool...