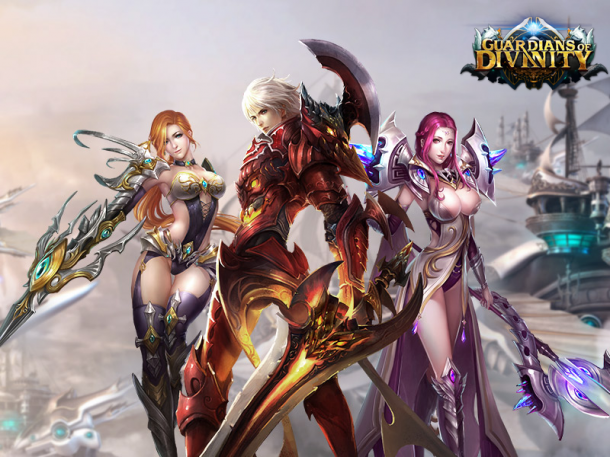 After launching the 3D FPS mobile game Fusion War in the end of 2015, 37Games scheduled a bunch of novel games for 2016. Here comes the Guardians of Divinity or G.O.D., an MMOARPG involving a massive war that spans Greek, Chinese, and Egyptian mythologies and goes beyond the mortal realm to the stars and beyond. This is the game where human beings and demigods dare to challenge the absolute rule of the gods. The Closed Beta begins on January 5th, 2016 with pre-registeration available now: news.37.com/god/….

Guardians of Divinity (G.O.D.) Official Trail : youtu.be/…

The Prophecy Was Divined and Destiny Awaits
The game begins in the past, when human beings were on different continents and worshiped different gods. This non-unified worship brought the mortals ceaseless war, until Prometheus created a towering structure that separated the different continents into massive floating cities in the air. He also gave the Atlantians Energy Crystals which allowed them to create wonders beyond imagination. For a long time this brought nothing but peace and prosperity.

The Atlantians even created space vessels which allowed the world to become connected again after hundreds of years. However, The Goddess of Prophecy predicted that there would be a chosen demigod that would take Zeus's throne and become the new king of gods. From hence forth the nightmare began as Zeus hunted them down. The remaining demigods plotted a bold plan -- overthrowing the gods.

The Gods Show Up To Join The Gods' Battle
In Guardians of Divinity, you will come across Athena, Anubis, the Monkey King, as well as various other gods from Greece, Egypt and China, and even gain the power from and transfer yourself into them.

Epic quests will lead you from fighting the mightiest of gods to helping collect worship power from human beings, and even leaving the mortal world to take the fight to the stars and beyond for the final battle against the forces of darkness.

At the Closed Beta stage, there will be 3 classes available to choose from. The Warrior, from the nation who used to feverishly worship Ares, is a melee hero with the greatest of survival ability. The cold-blooded Archer, who grew up among Artemis's troops, will send every enemy to hell with her magic arrows and invisible traps. The Mage, who used to be pietistic to the god Bader, now has started aiming her freezing magic towards the gods who wanted to remove the whole tribe.

When some gods start to harm the mortal world without mercy, for the sake of suspicion and fear, they have stained divinity. Now, accept your fate or takeover your destiny and possibly even the world's, the choice is in your hands. Sign up now for the Closed Beta and collect exclusive rewards: news.37.com/god/…

About Guardians of Divinity
Guardians of Divinity (G.O.D.) is a new MMO developed by the rapidly growing browser and mobile game company, 37Games. You play as a god that has been cast from the heavens. Join the first MMO to take gods from around the world and battle with them not only on earth but also in the stars. Use a custom built spaceship to battle your enemies in space and beyond. As the chosen one you'll have the ability to morph into different gods, such as Ares, Thor, or even the Monkey King in your quest to return to your former position among the gods. Start your Journey Now!

About 37Games
37Games is a global online game developer and publisher specializing in free-to-play browser and mobile games. The company has an in-house development teams that work with other game developers to create games which appeal to wide audiences. 37Games' growing portfolio includes games like Fusion War, Nightfalls, Felspire, Siegelord and the soon to be released Gods of Divinity. Official website: 37.com
Related Brainwaves
29th November

Sony recently announced lifetime shipment figures for the PlayStation 4 have surpassed 102.8 million units as of September 30, 2019. That puts shipment...

26th August

Despite the many post apocalyptic open-world games available today, I'm yet to play one inspired by kung-fu movies. Enter Experiment 101's Biomutant, a...
Trending Articles
6th January

When it comes to video games with deep stories, huge open worlds, and complex battle systems, nothing comes close to the RPG. Few genres are more diverse...

17th February

Dragon Ball Z: Extreme Butoden has apparently been announced in the latest edition of V Jump magazine in Japan. It is a 2D fighter and will be released...

4th February

Borderlands 2 has some of the most enjoyable writing of a game released this generation, thanks to lead writer Anthony Burch (Hey Ash, Whatcha Playin'?)....

16th October

Pokemon X & Y released worldwide on Saturday to the joy of millions - 4 million of whom purchased the game within the first two days. However, some of...

21st January

As we promised during the weekend in the next weeks we will unveil Durango and Orbis. All the technical info you want to know about the next generation...