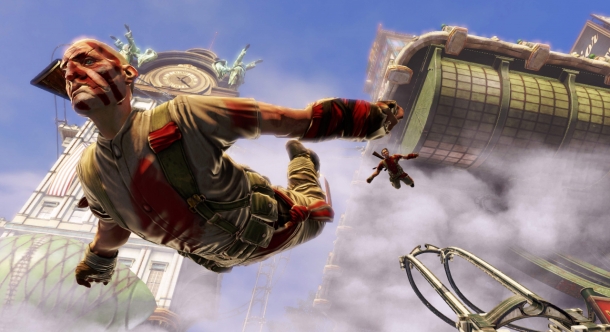 Irrational Game's BioShock series has become renowned for the way it approaches mature themes and deep subject matter. However, a scene in the upcoming BioShock Infinite was so religiously charged that it almost caused a developer to resign from the studio.

"There was a scene in the game at the end where . . . one of our artists--who got to a point in the game, played it, turned off BioShock, opened up his computer, opened Microsoft Word, and wrote a resignation letter; it had offended him so much," said lead designer Ken Levine in an interview with GameSpot.

The offending scene revolved around the character Comstock, the "the religious, ultra-nationalist antagonist" of BioShock Infinite, and according to Levine, a conversation with the almost-resigned developer actually aided his approach in writing the character.

"We actually ended up having a long talk; he was an extremely religious guy and when we started talking, I realized that something I could connect to was a notion of forgiveness and what an important part that is of the New Testament and why Christ was such a revolutionary figure . . . and thinking about how I would incorporate the power of that notion to Comstock into his world was, to me, the key. Because who hasn't done things that they don't want to be forgiven for?"

The theme of forgiveness seems important to the minds behind BioShock Infinite, as the developer ended up deciding not to resign. So, a happy ending for Irrational Games, and hopefully a happy ending for BioShock Infinite too.
Trending Articles
18th June

Legendary Game Designer Shigeru Miyamoto has told Kotaku that he feels that he made a bad game. Shigeru Miyamoto is famous for games like Metroid, Star...

16th October

Pokemon X & Y released worldwide on Saturday to the joy of millions - 4 million of whom purchased the game within the first two days. However, some of...

9th March

Well the reviews are out and the new Tomb Raider seems to be the rare successful reboot. However poor Lara can't seem to catch a break. There is a game...

17th February

Dragon Ball Z: Extreme Butoden has apparently been announced in the latest edition of V Jump magazine in Japan. It is a 2D fighter and will be released...

21st September

Gamers have found a new player vs player playlist and a new planet buried in Destiny's source code. The playlist is called Tales of Osiris and will take...