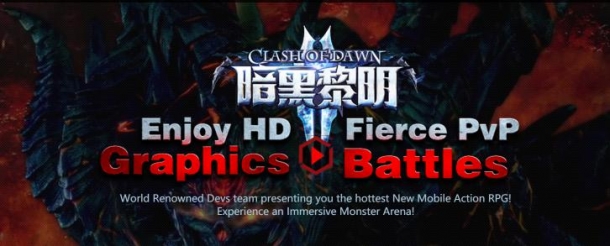 3D fantasy themed mobile Action RPG Clash of Dawn, which is published by Ujoy, is available on Google Play and Apple App Store now. In Clash of Dawn, players will join The Mourner Force to fight against Immortal Army and defeat the Immortal. Riches await to those brave enough to face these trials.

Clash of Dawn Offical Trailer:youtu.be/…
Embed:

Join Brotherhood or Knighthood?
There are 2 opposing Sects, the Knighthood and the Brotherhood, are waiting for players to join them. Both of them belong to the Mourner Force and their common goal is to defeat the Immortal of Immortal Army. But they also have some conflict of interest.

The Knighthood and Brotherhood are in eternal conflict. Both of them want to dominate the Kingdom. A hero is needed to bring peace back to the opposing factions and stabilize the kingdoms.

War of Succession will begin at specific time. Players who reach level 20 and join the Sect can enter the battlefield in Sigh Canyon. The mission for players is to defeat the enemies from opposing Sect. The Sect, which kill the most in target time, will be the winner. Both top 50 and top 10 players from the 2 Sects can be rewarded with extra bonus.

Join the Guild Battle and fight for the honor.
There are five various battlefields in Clash of Dawn. The Guild Battle is one of the most fierce battles. Team up together to fight for the honor of the Guild.

There are 2 gameplays in Guild. They are Guild Battle and Guild Res. Collection. 8 Guilds from each server will be selected to join 3 rounds of Guild Battles. The alive Guild will be the winner. During the Guild Battle, the mission for players is to grab the resources. The more, the better.

In Guild Res. Collection, 4 Guilds will fight against another 4 Guilds in a same map. Players can submit the resources to NPC in Safe Zone at any time. The Guild with better Group Cohesiveness is easier to win.

Choose your Sect and build your Guild. Fight for the Honor. Clash of Dawn's amazing graphics will immerse you into a breathing world. Both Chinese and English are available in the game. Darkness is invading the whole continent. Who can lift the veil of darkness and welcome the dawn's light? Follow its website and Facebook to get more information.

Free download Clash of Dawn on Google Play:goo.gl/…
Free download Clash of Dawn on Apple App Store:goo.gl/…
Clash of Dawn Facebook:facebook.com/ujoydawn2/
Clash of Dawn official website:ujoy.com/…

About Clash of Dawn
Clash of Dawn is a fantasy and dark style mobile action RPG published by Ujoy. With new Artisan class, Dual-Talent and Class Transfer System, players can enjoy fluid battles
and test the PvP skills on 5 unique battlefields! The Knighthood and Brotherhood are in eternal conflict. A hero is needed to bring peace back to the opposing factions and stabilize the kingdoms. Riches await to those brave enough to face these trials!

About Ujoy
Ujoy is a game developer and publisher specializing in free-to-play mobile games and giving players outstanding gaming experience. The company has in-house development teams that work closely with other game designers in order to gain a wide appeal to players from Southeast A
Trending Articles
16th October

Pokemon X & Y released worldwide on Saturday to the joy of millions - 4 million of whom purchased the game within the first two days. However, some of...

21st September

Gamers have found a new player vs player playlist and a new planet buried in Destiny's source code. The playlist is called Tales of Osiris and will take...

29th July

Blizzard's latest expansion for Hearthstone, One Night in Karazhan has received a fresh new trailer to go along with a release date announcement. Players...

17th February

Dragon Ball Z: Extreme Butoden has apparently been announced in the latest edition of V Jump magazine in Japan. It is a 2D fighter and will be released...

29th September

Hey gamers we've a new online tool for you, this time is Farming Simulator 2017 Cd-key Generator. Render your own village: from growing to animal husbandry,...