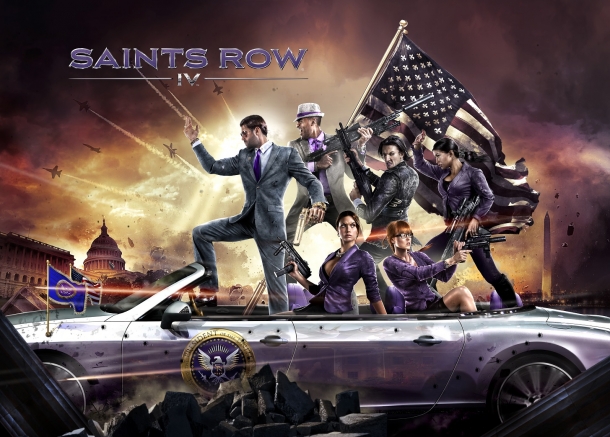 For those Saints Row fans out there, Saints Row IV has officially been revealed! Saints Row just got bigger as the leader of the Third Street Saints has just been elected President of the United States! As Leader of the Free World, you are free to dole out justice in whatever ways you see fit. But there's a threat looming. Aliens have arrived and have taken the Earth hostage. You must lead the fight in freeing humanity from the simulated Steelport and the Alien threat!

With Saints Row the Third, gameplay was taken to an all new level of crazy. You had crazy fighter jets, fists that turned people into a red mist, unusual outfits and more. All of that returns with Saints Row IV but with plenty of new additions. On top of all of the normal crazy that happens, the player will be able to acquire Super Powers that allow you to leap tall buildings, fly, run incredibly fast and freeze people with an ice beam. You'll need to make use of these abilities if you want to succeed in freeing Humanity.

After the recent acquisition of Volition by Koch Media, the prospect of a new Saints Row game was optimistic if not suspected to be a long ways off. Frequently with these types of acquisitions, there's a short delay as the transfer takes place. However, Saints Row fans can look forward to Saints Row IV this August 20 and August 23 for North America and the rest of the world respectively.
Trending Articles
16th October

Pokemon X & Y released worldwide on Saturday to the joy of millions - 4 million of whom purchased the game within the first two days. However, some of...

5th November

Fallout: Shadow of Boston and Fallout: The Ultimate Collection trademarks have been filed at the German patent office. The Office for Harmonization in...

17th February

Dragon Ball Z: Extreme Butoden has apparently been announced in the latest edition of V Jump magazine in Japan. It is a 2D fighter and will be released...

2nd February

World Series Of Poker Hack can generate unlimited Chips and Cash. http://tricksgamesonline.com/2017/02/02/world-series-poker-hack-chips-generator/ http://tricksgamesonline.com/2017/02/02/world-series-poker-hack-chips-generator/ About...

21st September

Gamers have found a new player vs player playlist and a new planet buried in Destiny's source code. The playlist is called Tales of Osiris and will take...