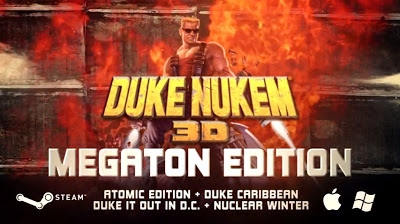 Love the Duke Nukem series, but still haven't quite washed the bitter taste of Duke Nukem Forever out of your mouth? Then you're in luck! In a surprise announcement, Gearbox Software has revealed Duke Nukem 3D: Megaton Edition, and its available now on Steam.

Developed by Developer Digital, Duke Nukem 3D: Megaton Edition is an enhanced remaster of Duke Nukem 3D: Atomic Edition, as well as the expansions Duke Caribbean: Life's a Beach, Duke It Out In DC and Duke: Nuclear Winter. Also, the game will be integrated with SteamPlay, and will have online multiplayer implemented in the future.

This remake is all well and fine for fans of the original Duke Nukem 3D, but it reminds me, whatever happened to that planned Duke Nukem 3D: Reloaded remake that was supposed to happen in 2011? That was totally a thing, but I haven't heard about it in almost two years. Is this Duke Nukem 3D: Megaton Edition the result of that project, or will we still see a full remake of the game sometime in the near future?

In any case, Duke Nukem 3D: Megaton Edition is available now on Steam for PC and Mac, with Linux support to come at a later date.
Trending Articles
28th November

These are some tips and/or tricks that almost everyone can use for Glory of Generals. 1. Upgrade your Commander first. The Commander is very important...

5th November

Fallout: Shadow of Boston and Fallout: The Ultimate Collection trademarks have been filed at the German patent office. The Office for Harmonization in...

9th March

Well the reviews are out and the new Tomb Raider seems to be the rare successful reboot. However poor Lara can't seem to catch a break. There is a game...

21st September

Gamers have found a new player vs player playlist and a new planet buried in Destiny's source code. The playlist is called Tales of Osiris and will take...

21st January

As we promised during the weekend in the next weeks we will unveil Durango and Orbis. All the technical info you want to know about the next generation...