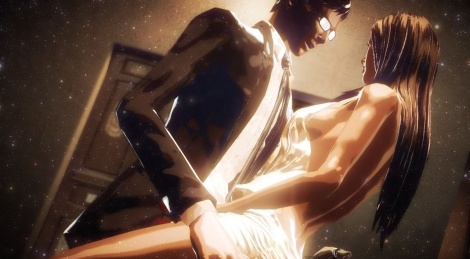 Auteur game designer, Goichi "Suda51" Suda, is still hard at work on his upcoming project, Killer is Dead. From the moment it was announced, it was obvious that it would be every bit as bloody and bonkers as his last two assassin games, Killer7 and No More Heroes, were.

But now, a Killer is Dead TV video has revealed Suda's decision to add "Gigolo Missions" into the mix. These feature the main character, the sword-wielding cyborg hitman Mondo Zappa, meeting up with women in a hotel bar and winning their hearts - finishing off by giving them a present. Should you fail, you're in for a slap.

However, Mondo has a secret weapon to help him win fair lady's heart: the "Gigolo Glasses". These magic specs come in two varieties but the only one we know anything about is the black pair with a pink frame; which allow you to view your date in her undergarments. Blatant sexism or an ironically over-the-top statement about the objectification of women in games? This is Suda51 we're talking about - a man who partly examined the relationship between Japan and America through a game where a hitman with split personalities kills exploding zombie terrorists - so who really knows?

It may not be clear how this pervy little mini-game is going to be worked into the main campaign but we do know for sure that the central plot is going to revolve around Mondo carving up the inhabitants of an underworld so seedy it's barely acknowledged. From Mondo's artificial arm and the robotic enemies seen in the trailers so far, it appears that transhuman cybernetic enhancements will also be tackled.

Killer is Dead is set for release later this year and will be published by Kadokawa Games in Japan, Xseed Game in North America, and Deep Silver in Europe.

Related Brainwaves
5th May

Killer is Dead is making its way onto the PC platform this May, with the Nightmare Edition launching on the 23rd of May. The Nightmare Edition comes with...