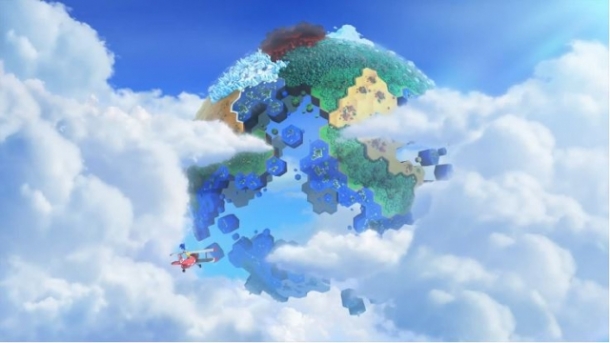 Nintendo aired a brief Nintendo Direct episode this morning, making a few new announcements while reminding viewers about other, previously announced titles. The full video can be watched here. If you don't have 28 minutes, below is a roundup of the information.

*Release dates are for North America, unless otherwise noted.

Mario & Sonic at the Winter Olympic Games 2014
Release Date: N/A
Platform: Wii U

The olympic union of Mario and Sonic is back for another olympics. This time it's the Winter Olympics in Sochi, Russia. New events have been added, including figure skating pairs and snowboarding slopestyle. Events will use a combination of Wii Remote Plus and GamePad controls.


Sonic: Lost World
Release Date: N/A
Platform: 3DS, Wii U

Sonic is going on another adventure, this time exclusive to the 3DS and Wii U. Nintendo and Sega have formed a "worldwide partnership" and Sonic: Lost World is the first product of that partnership. More info will be given at E3.


Game Gear titles
Platform: 3DS eShop

Additional Game Gear titles will be releasing on the 3DS Virtual Console, including Sonic the Hedgehog, Tails Adventure, Defenders of Oasis, and Shining Force II.


The Legend of Zelda: Oracle of Ages/Seasons
Platform: 3DS eShop
Release Date: May 30th

The paired Zelda titles, Oracle of Ages and Oracle of Seasons, arrive on the eShop at the end of the month. Ordinarily they'll retail for $5.99, but through June 20th, these interwoven adventures can be bought for $4.99 apiece.

New Super Luigi U
Release Date: June 20th (DLC - NA and Europe), August 25th (Retail - NA), July 27th (Retail - Europe)
Platform: Wii U

New Super Luigi U won't be limited to those who have already purchased New Super Mario Bros. U. The Luigi-centric DLC pack will be getting a retail release as well. The DLC releases first, on June 20th for $19.99. The retail release follows on August 25th (July 27th in Europe) for $29.99 and will not require New Super Mario Bros. U to play. Also announced is that Mario won't be in four-player co-op and will be replaced by Nabbit, the rabbit thief from New Super Mario Bros. U, pictured above.


The Wonderful 101
Release Date: September 15th, August 23rd (Europe)
Platform: Wii U

Platinum Games' Wii U exclusive adventure has been given a release date: September 15th (North America), August 23rd (Europe). More information will be released at E3.


Pikmin 3
Release Date: August 4th, July 26th (Europe)
Platform: Wii U

Nintendo showed a lengthy seven-minute presentation on Pikmin 3, detailing gameplay and story. Captain Olimar will not be in this game, instead you control three main characters, Alph, Brittany and Captain Charlie. The game can be controlled both with the GamePad and the Wiimote + Nunchuk combo used in the Wii ports of the prior two Pikmin games.


Best Buy E3 Demo Stations
Nintendo announced that select Best Buy locations across the United States and Canada will have demo stations of unreleased Nintendo titles during the week of E3.
Trending Articles
18th June

Legendary Game Designer Shigeru Miyamoto has told Kotaku that he feels that he made a bad game. Shigeru Miyamoto is famous for games like Metroid, Star...

5th November

Fallout: Shadow of Boston and Fallout: The Ultimate Collection trademarks have been filed at the German patent office. The Office for Harmonization in...

17th February

Dragon Ball Z: Extreme Butoden has apparently been announced in the latest edition of V Jump magazine in Japan. It is a 2D fighter and will be released...

28th November

These are some tips and/or tricks that almost everyone can use for Glory of Generals. 1. Upgrade your Commander first. The Commander is very important...

21st January

As we promised during the weekend in the next weeks we will unveil Durango and Orbis. All the technical info you want to know about the next generation...