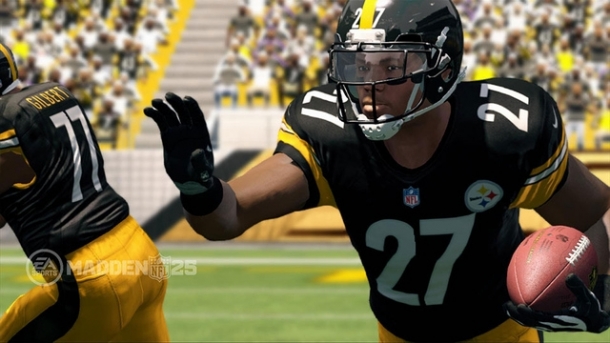 EA Sports went out of their way to title this year's football video game Madden 25, instead of the widely expected Madden 14. It only makes sense for the title of the game following Madden 10, Madden 11, Madden 12, and Madden 13 to be Madden 25, right? Upon first glance it doesn't add up but this year's game will be the 25th year that a Madden NFL game has hit the market, hence Madden 25. The title by itself sets a high standard for the game. 25 years is an eternity in video game franchises. The Call of Duty series, which has seemingly been around forever, is only reaching its 10th installment this year.

Possibly even more impressive is the fact that EA recently announced that the Madden franchise has sold 99 million units in the previous 24 years. Madden 25 will easily push it over the 100 million units sold mark which is a milestone that only the FIFA series has passed in the sports video game world.

There are a few websites like Madden-School.com that are already trying to prepare you by providing early tips and strategies for Madden 25. The game is still months away but sports gamers everywhere are looking for ways to get an upper hand on the competition. This is yet another indicator that the expectations for Madden 25 are extremely high.

The re-addition of owner mode to the game has had fans on social media clamoring. Owner mode was one of the most popular features in Madden NFL history. It was introduced in Madden 2004 on the PlayStation 2 but was removed during the switch to the Xbox 360 and PlayStation 3 consoles. You can now take over your favorite team and control things such as ticket and memorabilia prices as well as make upgrades to your stadium.

Another big announcement made by EA Sports is the ability to import draft classes from NCAA Football 14 to Madden 25. For those of you who are new to the Madden series, importing draft classes means that you can take your favorite players from college teams and play with them in the NFL. Much like owner mode, this was one of those features that had been in previous games which EA Sports has finally decided to bring back.

Expectations, then, are at all-time highs for EA Sports' Madden 25. We will find out on August 27th if this year's game will meet those expectations.
Related Brainwaves
15th May

Sony has announced this week's European PlayStation Store discounts. A large number of Electronic Arts games are on sale, including Battlefield: Hardline...

20th August

Microsoft today confirmed the launch line-up for the Xbox One. It consists of 23 titles, almost half of which are exclusives. Here's the full list: ...

17th May

Earlier this week, EA confirmed what everyone long suspected; the third-party giant has turned its back on the Wii U. "We have no games in development...
Trending Articles
5th November

Fallout: Shadow of Boston and Fallout: The Ultimate Collection trademarks have been filed at the German patent office. The Office for Harmonization in...

25th July

The next installment of the Super Smash Bros series is in development. Ever since a few days ago, people were excited to see it. Now, fans of the series...

21st January

As we promised during the weekend in the next weeks we will unveil Durango and Orbis. All the technical info you want to know about the next generation...

17th February

Dragon Ball Z: Extreme Butoden has apparently been announced in the latest edition of V Jump magazine in Japan. It is a 2D fighter and will be released...

28th November

These are some tips and/or tricks that almost everyone can use for Glory of Generals. 1. Upgrade your Commander first. The Commander is very important...