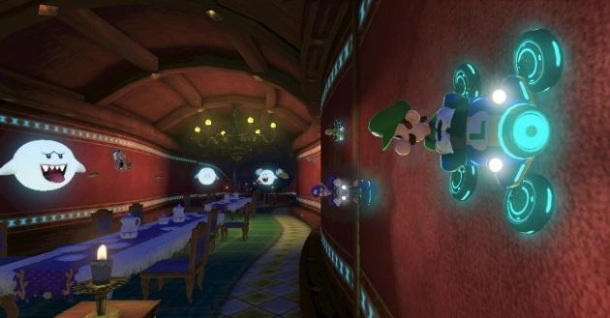 Mario Kart is one of those games that works as a perfect example of what many people love about Nintendo. While all the other companies are talking about how you can see rain droplets on their cars or the crazy detail they put into tires, Nintendo makes a silly racer that's all about fun.

The latest iteration of this long-running racing franchise is titled Mario Kart 8 and takes inspiration from a Mobius strip for its gameplay, with tracks that twist and turn upon themselves and karts that can drive on the walls and ceiling as easily as they can the track. Anti-gravity isn't just a superficial attraction, though, and serves to open up new alternate routes as well as a new feel for the handling while the kart is in this mode.

The first map I played was a simple Mobius strip design with very few alternate routes. Here the anti-gravity was just part of the map and was a perfect introduction to the player. Whenever it's needed your kart will automatically morph into a hoverkart by turning its wheels sideways Back to the Future 2 style. While in this mode you want to keep away from other racers more so than usual since any contact will send you into a spin which is usually detrimental. It doesn't slow you down as much as a banana peel but the momentary loss of control can be a killer.