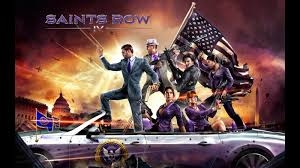 Recently, i have been hearing rumors that Saints Row 4 looks 'crappy' and 'undetailed' and even 'like a ps2 game' because of its publisher Deep Silver. Many have been led to believe that Deep Silver (creator of the Dead Island series) is responsible. If you have played any of the Dead Island games, then you know why people think this. Dead Island is a current generation game, but lacks so much detail and animation. In the new installment, you can literally see you character miss ladder steps and watch their leg phase through the ground; characters and zombies even glitch around occasionally. Even getting into a car looks so half assed, so to speak. After hearing these and confirming their reasons by playing Dead Island, i myself have been led to believe the same thing. However i also think that they have no involvement since they are only the publisher and not the developer.

What do you think? Is Deep Silver responsible? Or are they just the publisher finalizing the game?
Related Brainwaves
1 hour ago

The Witcher 3: Wild Hunt has been delayed until February 2015 so that CD Projekt Red can make sure it reaches its full potential. In an open letter to...

2 hours ago

After announcing that Irrational Games was shutting its doors, former employees were given the opportunity to meet with external studios and publishers...

3 hours ago

A Watch Dogs Closed Beta listing surfaced on the Xbox One store earlier today... before quickly being removed. The listing was quickly posted on Reddit,...

5 hours ago

The Fullbright Company has announced a partnership with indie developer Midnight City which will bring the critically lauded PC darling Gone Home to consoles. Originally...