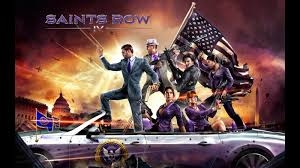 Recently, i have been hearing rumors that Saints Row 4 looks 'crappy' and 'undetailed' and even 'like a ps2 game' because of its publisher Deep Silver. Many have been led to believe that Deep Silver (creator of the Dead Island series) is responsible. If you have played any of the Dead Island games, then you know why people think this. Dead Island is a current generation game, but lacks so much detail and animation. In the new installment, you can literally see you character miss ladder steps and watch their leg phase through the ground; characters and zombies even glitch around occasionally. Even getting into a car looks so half assed, so to speak. After hearing these and confirming their reasons by playing Dead Island, i myself have been led to believe the same thing. However i also think that they have no involvement since they are only the publisher and not the developer.

What do you think? Is Deep Silver responsible? Or are they just the publisher finalizing the game?
Related Brainwaves
17 hours ago

PS4's next firmware update (the 'Masamune' update) arrives early next week and will bring with it the Share Play feature. Share Play was actually first...

19 hours ago

Codemasters have announced Toybox Turbos, a downloadable table-top racer for Xbox 360, PlayStation 3 and Windows PC. Clearly inspired by the incredibly...

21 hours ago

Resident Evil: Revelations 2 hopes to repair the damage that Resident Evil 6 has done to the series, while also building upon the success of the first...

1 day ago

Grand Theft Auto: San Andreas, which turns 10 years old this month, will be making its way to the Xbox 360's Games on Demand service with 720p resolution...
Trending Articles
3 days ago

Sid Meier's Civilization V will be free to play on Steam until the 23rd of October. The promotion is designed to drum up excitement for Firaxis' latest...

5 days ago

343 Industries have replied to fan complaints concerning Halo: The Master Chief Collection's requirement of a 20GB day one patch. In a post on NeoGAF,...

2 days ago

In what's being billed as the most significant Titanfall update to-date, Titanfall 'Game Update Eight' will add a brand new cooperative game mode called...

1 day ago

Phil Spencer, head of Microsoft's Xbox Division, previously announced that screenshot functionality would be coming to the Xbox One soon. However, in...

1 day ago

Lara Croft and The Guardian of Light was a refreshing change of pace for the Tomb Raider series. Rather than following Lara around from a third person...