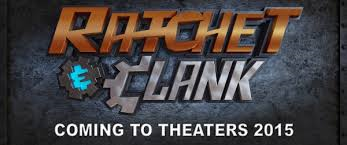 Insomniac and Sony Entertainment revealed a while back that they are working on a full fledged movie for their Ratchet and Clank video game series. The movie is said to be fully funded and also have every team working on it. So far, we have only had a trailer showing Ratchet, Clank, and Captain Qwark speaking of why there isn't a new game yet. Just by watching the trailer, we can tell that the movie will have some comedy as well as action and "dubstep".

Here is why the movie will not suck:

1) Visuals are incredible. Qwark's suit was very detailed, however Ratchets fur was just as detailed as when he was on the PS2 (there is no pop out and you couldn't see it like you would see hair). This is the one thing that I am not happy about. The changes they are putting on Ratchet and Clank are just awful. Ratchet is more cartoon like along with Clank; their detailed forms as seen in the Future titles were so much better and fit the game more.

2) Same voice actors! Most movies made from games star completely different actors than the actual voices. (Super Mario is a good example).

3) Dubstep... really though... DUBSTEP! Ratchet and Clank is full of action; Dubstep will add to the feel to it. That and dubstep is a perfect genre for the movie/game.

4) A 2015 release. Most people don't think that a distant release is a good thing simply because of a long wait, causing people to forget about it. But since this is a game movie, a long wait is worth it. Insomniac has seen all the past movie games and how they had their downsides, a longer wait allows them to focus on how it looks, script, etc..

What do you think? Will this be a movie that you will go see? Do you think it will be successful? Do you think that it should stay a game?

I, for one, will be going to see this movie when it is released into theatres. 2015, here I come!