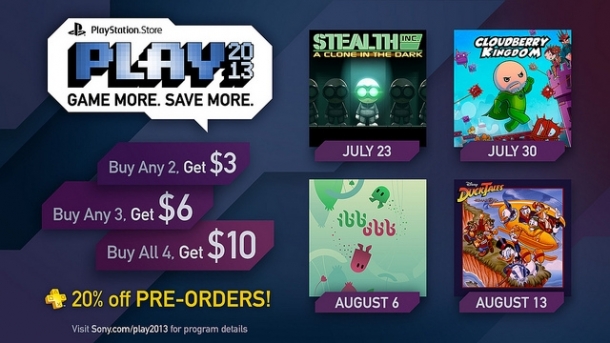 With the Steam summer sale taking up everyone's hearts and minds at the moment you might not even remember that other digital distribution gaming services exist. Obviously they still do exist and Sony has announced the titles that will be releasing for their Summer PLAY event as well as the discounts Playstion Plus subscribers can expect.

July 23rd - Stealth Inc: A Clone in the Dark for PS3 and PSVita ($9.99 or $7.99 for Plus) - Previously titled Stealth Bastard this one is pretty self explanatory. Eighty Levels of sneaking and laser dodging awaits any brave enough to give it a try.

July 30th - Cloudberry Kingdom for PS3 ($9.99 or $7.99 for Plus) - Ever thought to yourself "Man I'm flying through this platformer. When will I get a game whose difficulty is just right for me?" Well look no further. Couldberry Kingdom features a plethora of different gameplay and difficulty modes ranging from a walk in the park to a constant rain of death and circular saw blades. So get in there and let me know exactly how good you actually are.

August 6th - ibb &obb for PS3 ($9.99 or $7.99 for Plus) - Are you one of those people who prides themselves on their ability to multitask? Well here's a test for you, play two platforming characters at the same time! Yeah, I knew you weren't man enough. Don't let the cutesy visuals fool you, this game is one of the most challenging to even wrap your head around. It's like trying do your math homework with your right hand and paint a masterpiece with your left. Of course you could have a friend help you, but then best of luck keeping that friendship when you're trying to time a puzzle for the 30th time in a row.

August - 13th - Ducktales: Remastered for PS3 (&14.99 or $11.99 for Plus) - "Life is like a hurricane. Here in. Duckburg" has been stuck in my head since E3. WayForward's remastering of the classic platformer is finally near. Featuring redone visuals, voices from the original show and even changes to the level layouts it's a true remastering instead of just an HD port. Just remember WayForward is not responsible for the stares you'll get as you sing "Duck Tales, Oo-oo" all day every day.

So there it is. Admittedly the list is a bit platformer heavy but they each have something unique about them. You'll even get some PSN cash back for buying more than one of the listed titles. For those of you without PlayStation platforms, Ducktales: Remastered and Cloudberry Kingdom will be releasing on just about every platform ever, just don't expect a deal for subscribing to PS Plus.