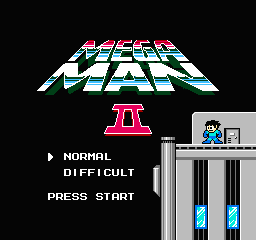 So here it is. One of those games that everyone has played or at least heard of. It's the sequel to one of the most popular retro games of all time and manages to outdo its predecessor in virtually every way to become the most popular game in its entire franchise, bar none. Mega Man 2 was the first game I ever labelled as my all time favorite and, at the age of 4, it was the first game I mastered. To-date, Mega Man 2 is also the game I've beaten more times than any other. Since re-purchasing it on the Wii U virtual console a few weeks ago, I've gone back and beaten it another dozen times, and I still return to it every couple weeks just for a quick, easy, and nostalgic burst of gaming. The reputation of a game I hold in such high regard has to be tainted by nostalgia, but what is it that really keeps me coming back? Well, to be honest, I don't think there's any nostalgia influencing my love of this one. Mega Man 2 is as good a game today as it ever was, unlike its predecessor, and it's more memorable than its successors.

Mega Man 2 is one of the best sequels of all time. In fact, I'd argue it's near perfect. It took everything good about the original, added more to it, made it better, and elaborated on it while also fixing virtually everything wrong at the same time. Instead of six robot masters, there were eight. Instead of one special item that you were never told about (the magnet beam), you got three and the game also told you every time you acquired one. Cheap moments are reduced to an absolute minimum and even they can be bested with a bit of memorisation and a few repeat attempts. There are more health and item drops. The robot master weapons are more accessible and useful. And, above all else, the music is elevated from 'pretty good' to 'one of the best game soundtracks in the history of the medium'. Every one of those points is why I love Mega Man 2, especially that last one; I still find myself randomly humming the theme to... well, pretty much every robot master and wily stage...
Related Brainwaves
9th April

If you missed the recent Nintendo Direct that served as a special showcase the upcoming Super Smash Bros. then don't panic, we've got your back with a...

24th June

I've been confessing a lot of things lately concerning my history with gaming, so I'm going to follow my own trend and admit that I never did beat the...