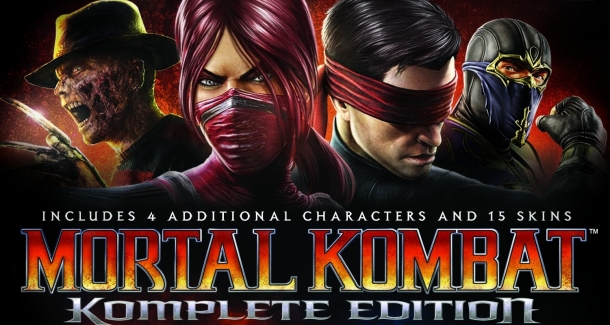 "MK fans, GET OVER HERE!" The latest entry in the Mortal Kombat franchise for the PC hit retail stores on August 6 in North America and Augst 2 in Europe. The game, entitled Mortal Kombat: Komplete Edition, had its digital PC release a month prior on July 3. Both the retail and digital versions are priced at $29.99.

Mortal Kombat, also known as Mortal Kombat 2011, is the ninth entry in the beloved franchise. The game originally launched on the PS3 and Xbox 360 in the spring of 2011, with the PS3 version having Kratos from God of War as an exclusive playable character. This new Mortal Kombat game was a great success, receiving excellent reviews and selling very well. So well that developer NetherRealm repackaged the game a year later to form Mortal Kombat: Komplete Edition. This version of the game includes additional content in the form of four previously-released playable DLC characters: Skarlet, Kenshi, Rain and Freddy Krueger. It also features 15 Klassic Mortal Kombat Skins and three Klassic Fatalities for Scorpion, Sub-Zero and Reptile.

Shortly following the release of the Komplete Edition, NetherRealm brought Mortal Kombat to the PS Vita. This portable version of the game has all the content from the Komplete Edition, as well as new content that includes new character costumes and an expanded Challenge Tower mode, with 150 new challenges added. The PS Vita edition of the game also features new gameplay controls thanks to the console's touchscreen controls.

Mortal Kombat: Komplete Edition was ported to the PC by developer High Voltage Software. The PC version does not contain the added PS Vita content, but rather matches the content from the PS3 and Xbox 360 Editions, minus the PS3-exclusive Kratos. If you are a PC gamer and/or have not had the chance to play the game, then it is certainly worth picking up as it contains the franchise's best story mode to date, excellent gameplay mechanics, with X-Ray special moves and new Fatalaties, and a plethora of unlockables.

NetherRealm Studios was formed in 2010 following the demise of former Mortal Kombat developer, Midway. Mortal Kombat 2011 was the first game developed by the new studio. NetherRealm went on to develop its second game, Injustice: Gods Among Us, which was released this spring. The studio is now working on the tenth entry in the Mortal Kombat franchise.