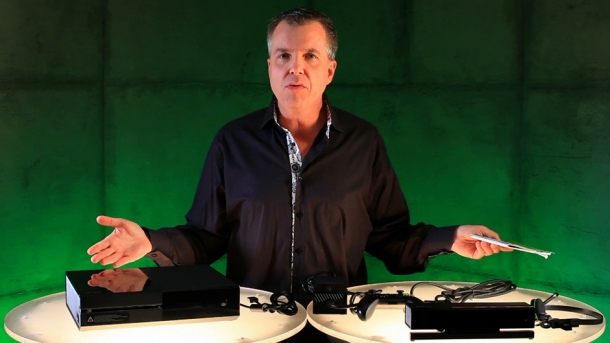 Earlier today, Microsoft posted a beautiful video showing off everything a beautiful person can expect when they open up the beautiful box containing their beautiful Xbox One and a sticker.

Throughout the video, the remarkably enthusiastic Major Nelson showed off everything that the "Day One edition" of Microsoft's new console would come with and says the word "beautiful" enough times to make a drinking game of it.

As well as the console and all of its necessary power cables, the Xbox One will also come with a headset, a single controller, the Kinect sensor and a sticker. All in all, everything's there that one would expect there to be. Still, it's impressive how optimistic Microsoft is after that controversial E3 conference, so credit where it's due.

In addition to all of this, a small list of facts about the console by Director of Product Planning Albert Penello have also been compiled on the Xbox Wire blog, just below the video. Interestingly, they mention that the controller has undergone "… over 40 design improvements, including a redesigned D-pad for accuracy, redesigned thumb sticks for better grip and control, new menu and view buttons, redesigned triggers and bumpers for accuracy and comfort, as well as exclusive impulse triggers for haptic feedback."

The Xbox One is scheduled for an American release this November, with a European launch to follow shortly after.

Trending Articles
5th November

Fallout: Shadow of Boston and Fallout: The Ultimate Collection trademarks have been filed at the German patent office. The Office for Harmonization in...

4th February

Borderlands 2 has some of the most enjoyable writing of a game released this generation, thanks to lead writer Anthony Burch (Hey Ash, Whatcha Playin'?)....

16th February

Yu-Gi-Oh! Duel Generation Hack Tool Get Free Unlock All Pack and Deck, tool works on Android and iOS (iPhone, iPad, iPod Touch), download tool Hack Tool...

2nd February

World Series Of Poker Hack can generate unlimited Chips and Cash. http://tricksgamesonline.com/2017/02/02/world-series-poker-hack-chips-generator/ http://tricksgamesonline.com/2017/02/02/world-series-poker-hack-chips-generator/ About...

18th June

Legendary Game Designer Shigeru Miyamoto has told Kotaku that he feels that he made a bad game. Shigeru Miyamoto is famous for games like Metroid, Star...