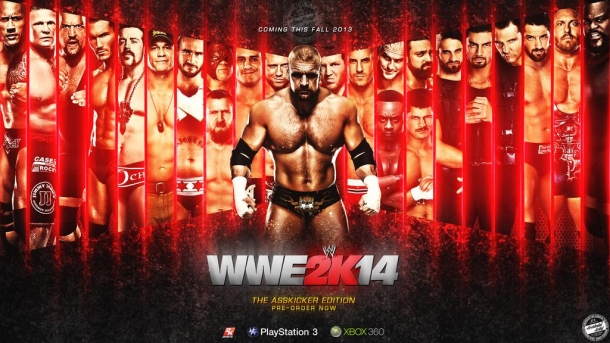 The 30th anniversary of Wrestlemania takes place next year, April 6, 2014. To celebrate this milestone, 2K Games has created a "30 Years of Wrestlemania" mode to serve as the game's primary single-player attraction. With WWE 2K14's fall release rapidly approaching, 2K Games took the opportunity at WWE Summerslam Axxess to reveal the roster for this new mode.

There were 34 WWE legends revealed in total, or 42 when counting the retro variants. The names are as follows:

Alberto Del Rio
Andre the Giant
Batista
Big Show
Big Show (Retro)
Big John Studd
Bret Hart
Brock Lesnar
Brock Lesnar (Retro)
Chris Jericho
Chris Jericho (Retro)
CM Punk
Diesel
Edge
Goldberg
Hulk Hogan
"Hollywood" Hulk Hogan
JBL
John Cena
John Cena (Retro)
Kane (Retro)
King Kong Bundy
Mick Foley
Randy Orton
"Macho Man" Randy Savage
Razor Ramon
Rey Mysterio
Ric Flair
Ric Flair (Retro)
Ricky Steamboat
Sergeant Slaughter
Shawn Michaels
Shawn Michaels (Retro)
"Stone Cold" Steve Austin
Ted DiBiase
The Miz
The Rock
The Rock (Retro)
Triple H
Triple H (Retro)
Ultimate Warrior
Undertaker
Undertaker ("American Badass" Retro)
Yokozuna

WWE 2K14 will also feature the current roster of wrestlers, with names such as Daniel Bryan, Dolph Ziggler and Ryback already having been confirmed. With most of the current wrestlers likely to be included in the game, the complete roster in this latest WWE video game is on track to be one of the largest in quite some time, if not the largest in the history of WWE games.

Two versions of the game will release at retail: standard version and "Phenom Edition." The latter is a special collector's edition of the game that includes an exclusive coffin box, collectible art card hand-signed by the Undertaker, Blu-Ray/DVD copy of "WWE Undertaker: The Streak" disc #1, Undertaker-themed controller skin and "American Badass" Undertaker playable character in all the game's modes.

Fans who pre-order either version of the game will receive the Ultimate Warrior as a bonus playable character in all modes.

WWE 2K14 is being published by 2K Games and developed by Yuke's Japan for the PlayStation 3 and Xbox 360 consoles. The game is scheduled for an October 29 release in the United States and a November 1 release in Europe, Australia and Japan.