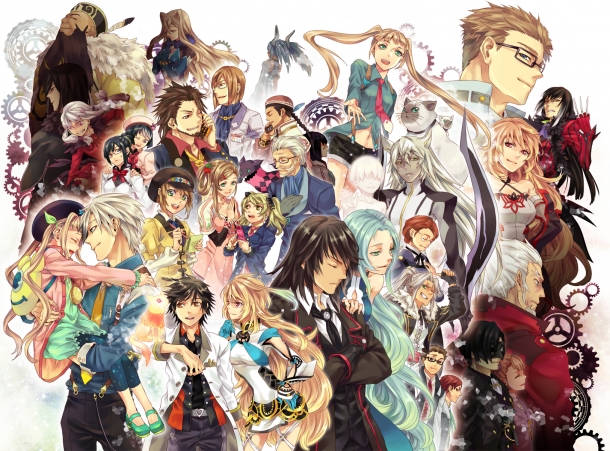 Hot on the heels of Xillia's Western release, Namco has trademarked a number of new Tales titles.

A blog post and a Siliconera article have both revealed that Tales of Zestoria, Creales, Catastora, Link, Jin, Ansis, Memories, Bibliotheca and Favourite have all been trademarked by Namco Bandai.

Whether or not Namdai uses them all remains to be seen, but it does seem like a smartphone game named Tales of Link will be the next one in the series, as the developer has revealed some of the characters in Jump.

Link seems to revolve around the foursome of young adventurer Sara searching for "the Saviour", a fairy named Rippi who's seeking to recover the "Seed of Disaster", a swordsman named Shiza who wields six swords (three katanas, two nodachis and a great sword), and a goddess named Leone who is trying to prevent the "Seed of Disaster" from blooming.

In addition to all this, it seems that Tales of Destiny is getting a slot machine remake. Yes, really. You read that right.

Related Brainwaves
22nd July

After the success of Wreck it Ralph, it perhaps shouldn't come as a great surprise to hear that more films are set to make use of video game characters....
Trending Articles
18th June

Legendary Game Designer Shigeru Miyamoto has told Kotaku that he feels that he made a bad game. Shigeru Miyamoto is famous for games like Metroid, Star...

5th November

Fallout: Shadow of Boston and Fallout: The Ultimate Collection trademarks have been filed at the German patent office. The Office for Harmonization in...

25th July

The next installment of the Super Smash Bros series is in development. Ever since a few days ago, people were excited to see it. Now, fans of the series...

21st January

As we promised during the weekend in the next weeks we will unveil Durango and Orbis. All the technical info you want to know about the next generation...

16th February

Yu-Gi-Oh! Duel Generation Hack Tool Get Free Unlock All Pack and Deck, tool works on Android and iOS (iPhone, iPad, iPod Touch), download tool Hack Tool...