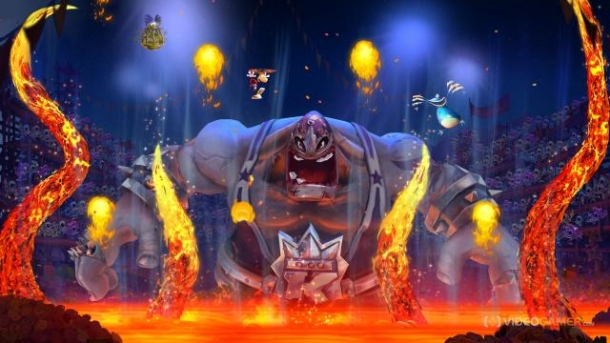 September marks the unofficial opening of the holiday season, where the big name games begin to release, culminating in the outright brouhaha of November's two new console launches. This month is so good, we're extending our Top 5 to a Top 6.



Rayman Legends
Release Date: September 3rd (NA), August 30th (EU), August 29th (AUS)
Platforms: Wii U, PS3, 360, Vita, PC

Once a Wii U exclusive, Rayman Legends was delayed in order to give those with other platforms a chance to play the newest Rayman platformer. Its predecessor, Rayman Origins, was a big hit back in 2011 and now all eyes are on Rayman Legends. Will it live up to the hype and be true platforming bliss?


Killzone: Mercenary
Release Date: September 10th (NA), September 4th (EU)
Platforms: Vita

Sony's handheld is getting its first Killzone title this month. Killzone: Mercenary takes place shortly after the events of the original Killzone and will be the first game in the series where players fight alongside both the Helghast and ISA specialists.


Kingdom Hearts HD 1.5 Remix
Release Date: September 10th (NA), September 12th (EU), September 13th (AUS)
Platforms: PS3

This Kingdom Hearts package includes three Kingdom Hearts titles. Kingdom Hearts Final Mix is an updated version of the original Kingdom Hearts that will release outside of Japan for the first time in this collection. Kingdom Hearts Re:Chain of Memories is the PS2 port of the GBA game, releasing in Europe and Australia for the first time. Concluding the package is the events of Kingdom Hearts 358/2 Days in cinematic form only.


Puppeteer
Release Date: September 10th (NA), September 11th (EU)
Platforms: PS3

Kutaro is a normal little boy... until he's captured by the Moon Bear King and has his head eaten. But thankfully, he finds a new head, steals the Moon Bear King's magical scissors and goes on an adventure to get his head back. Kutaro uses the scissors as his weapon and also finds various types of heads that grant him different abilities. Welcome to the Puppeteer.


The Wonderful 101
Release Date: September 15th (NA), August 23rd (EU), August 24th (AUS)
Platforms: Wii U

Horrible aliens called the Geathjerk are attempting to take over the planet. It's up to the team of heroes known as the Wonderful 100 to band together and save everyone! The Wonderful 101 is Pikmin meets Viewtiful Joe, as you control a group of heroes that can form different weapons via drawing on the GamePad's touch screen. What will we score it? Director Hideki Kamiya doesn't care!


Grand Theft Auto V
Release Date: September 17th (Worldwide)
Platforms: PS3, 360

It's almost time for the next Grand Theft Auto game! Grand Theft Auto V will, for the first time, feature three protagonists instead of one. Their stories will connect into an overarching plot. The world is even bigger than past GTA titles and there's seemingly every kind of little side game you can think of in GTA V. Retail copies of the game will also come packaged with an open-world, online multiplayer game called Grand Theft Auto Online.

Trending Articles
4th February

Borderlands 2 has some of the most enjoyable writing of a game released this generation, thanks to lead writer Anthony Burch (Hey Ash, Whatcha Playin'?)....

18th June

Legendary Game Designer Shigeru Miyamoto has told Kotaku that he feels that he made a bad game. Shigeru Miyamoto is famous for games like Metroid, Star...

21st January

As we promised during the weekend in the next weeks we will unveil Durango and Orbis. All the technical info you want to know about the next generation...

21st September

Gamers have found a new player vs player playlist and a new planet buried in Destiny's source code. The playlist is called Tales of Osiris and will take...

16th February

Yu-Gi-Oh! Duel Generation Hack Tool Get Free Unlock All Pack and Deck, tool works on Android and iOS (iPhone, iPad, iPod Touch), download tool Hack Tool...