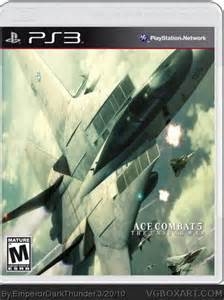 As everyone knows, a lot of game companies have been working on remaking old video games into HD games for current and next gen consoles. We have the Kingdom Hearts 1.5 HD, Soul Caliber 2 remake, etc. Since we have all these things coming about, why not share my most wanted game to be re released in HD?

Many of you may not know, but my personal most favorite game of all time is Ace Combat 5: The Unsung War. I loved that game so much. I have a lot of memories with it, believe it or not. The story was one that just pulled you into it and made you part of it at the same time. Fighting the Yuktobanian military to protect Osea with your wingmates was so awesome. And then came the plot twists and the separation into a Mercenary Squad. This game had it all. And to top it off, the graphics were unlike anything seen on the PS2. Remaking the game into HD for the PS3 or PS4 would not be hard at all since the game already had incredible detail and graphics. And against the other Jet Simulators, this had the best story and user friendly controls. Most games had realistic jet handling, this was easy to use and fun.

Another reason why this is my favorite game is because of the music. I loved it so much and it fit the game so well. The best use of it was the beginning CG scene when you start up the game. Using the song "Blurry" by Puddle Of Mud, Konami used the music to show how amazing the CG and regular gameplay can be with music.
Trending Articles
21st January

As we promised during the weekend in the next weeks we will unveil Durango and Orbis. All the technical info you want to know about the next generation...

17th February

Dragon Ball Z: Extreme Butoden has apparently been announced in the latest edition of V Jump magazine in Japan. It is a 2D fighter and will be released...

6th January

When it comes to video games with deep stories, huge open worlds, and complex battle systems, nothing comes close to the RPG. Few genres are more diverse...

18th June

Legendary Game Designer Shigeru Miyamoto has told Kotaku that he feels that he made a bad game. Shigeru Miyamoto is famous for games like Metroid, Star...

2nd February

World Series Of Poker Hack can generate unlimited Chips and Cash. http://tricksgamesonline.com/2017/02/02/world-series-poker-hack-chips-generator/ http://tricksgamesonline.com/2017/02/02/world-series-poker-hack-chips-generator/ About...