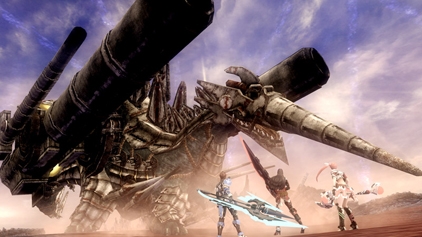 During Sony Computer Entertainment Japan's press conference on Monday, Sega announced Phantasy Star Nova, a PlayStation Vita title that will take place in the same universe as Phantasy Star Online 2.

Unlike the MMORPG, Phantasy Star Nova will be a single player offline game that will be sold in stores come 2014. Despite the offline focus, Nova players will be able to connect together in an ad-hoc multiplayer.

Additional development details surfaced today. Tthe game is being developed by tri-Ace, and they currently have over 70 team members actively working on it. Their goal is, according to Siliconera, to produce an AAA quality game for Vita. Let's hope they succeed.

Trending Articles
2 days ago

The first of Mario Kart 8's two DLC packs is expected to land next month. We already knew that it would include the following: Three new characters...

3 days ago

Sid Meier's Civilization V will be free to play on Steam until the 23rd of October. The promotion is designed to drum up excitement for Firaxis' latest...

1 day ago

Lara Croft and The Guardian of Light was a refreshing change of pace for the Tomb Raider series. Rather than following Lara around from a third person...

1 day ago

Grand Theft Auto: San Andreas, which turns 10 years old this month, will be making its way to the Xbox 360's Games on Demand service with 720p resolution...

23rd September

Ubisoft revealed today Assassin's Creed Chronicles: China, an entirely new downloadable Assassin's Creed game, featuring 2.5 side-scrolling gameplay and...