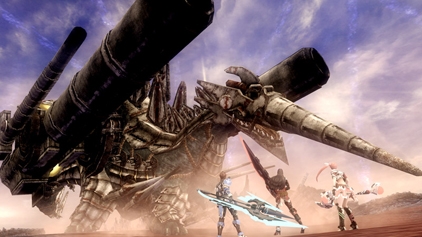 During Sony Computer Entertainment Japan's press conference on Monday, Sega announced Phantasy Star Nova, a PlayStation Vita title that will take place in the same universe as Phantasy Star Online 2.

Unlike the MMORPG, Phantasy Star Nova will be a single player offline game that will be sold in stores come 2014. Despite the offline focus, Nova players will be able to connect together in an ad-hoc multiplayer.

Additional development details surfaced today. Tthe game is being developed by tri-Ace, and they currently have over 70 team members actively working on it. Their goal is, according to Siliconera, to produce an AAA quality game for Vita. Let's hope they succeed.

Trending Articles
3 days ago

Final Fantasy XIII was originally planned as a grand creation spanning three different games with varying styles of play. The first came out as planned,...

15 hours ago

Bossa Studios, the developers behind 2013's quirky Surgeon Simulator, have announced their next crazy game, titled I Am Bread. I Am Bread will have you...

3 days ago

343 Industries have revealed that players will need to download a day one patch of 20GB in order to play Halo: The Master Chief Collection when it launches...

4 days ago

Nintendo surprised the gaming world a few months ago by announcing new revisions to its 3DS and 3DS XL (or LL as it is known in Japan) hardware. The biggest...

21st September

Gamers have found a new player vs player playlist and a new planet buried in Destiny's source code. The playlist is called Tales of Osiris and will take...