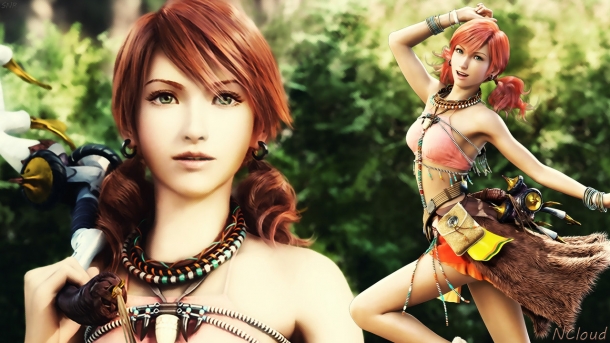 For a game that's so obsessed with dressing up women, it seems weird that Vanille's new getup in Lightning Returns is so… well… lazy. It's the same as her normal rags, just with a goofy hat thrown on top. Come on, guys, this is supposed to be a time travel story. You gave us a future badass version of Hope, why are you being so reluctant to change up the ladies' designs?

Well, whatever. Vanille is officially returning to the world of XIII. Rather than a rebellious l'cie, she's now part of a group called "The Order" and can hear the voices of the dead. Whether or not she plays more than a supporting role has yet to be revealed.

In addition, the magazine scans that reveal Vanille's existence also show off even more costumes for Lightning, specifically a Yuna getup and an Aeris outfit. Both of these seem to arm her with the trademark staves of those girls. Whatever you think of all these costumes, having Lightning use different weapons in the game should add at least some variety to the combat.
Related Brainwaves
31st October

If a game that was never announced gets cancelled, would anybody hear about it? The answer is yes, if someone tells the media. Multiple unnamed sources...

28th October

File this one under the "interesting thought" category. Official Xbox Magazine asked Lightning Returns: Final Fantasy XIII gameplay director Yuji Abe and...

15th September

Square Enix has been a bit inconsistent with how long Lightning Returns: Final Fantasy XIII is going to be. At first, it was 20-30 hours, then it was...
Trending Articles
9 hours ago

The PS4's next update - called Masamune - will include Sony's Share Play functionality when it arrives next week. The feature, which was first shown off...

9 hours ago

Grand Theft Auto: San Andreas, which turns 10 years old this month, will be making its way to the Xbox 360's Games on Demand service with 720p resolution...

1 day ago

In what's being billed as the most significant Titanfall update to-date, Titanfall 'Game Update Eight' will add a brand new cooperative game mode called...

21st September

Gamers have found a new player vs player playlist and a new planet buried in Destiny's source code. The playlist is called Tales of Osiris and will take...

2 days ago

Hyrule Warriors, the Zelda-infused Dynasty Warriors-inspired hack 'n slash title developed by Team Ninja will be getting Amiibo support, Nintendo have...