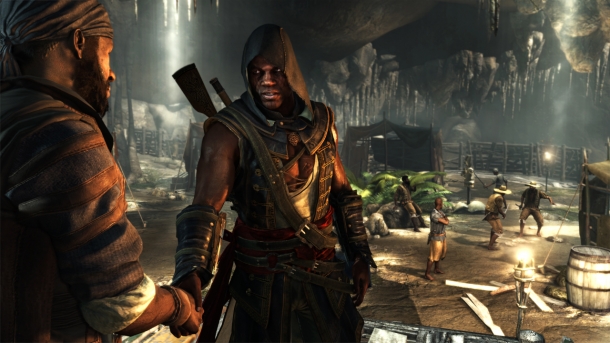 Ubisoft has revealed that Assassin's Creed IV: Black Flag will have a season pass, which will sell for $20.

The season pass will cover mostly single-player content and offers an overall 20% discount. In particular, it will cover a DLC pack featuring a freed slave on protagonist Edward Kenway's crew named Adewale, who gets shipwrecked in Saint-Dormingue and dragged into the slaving community.

Also mentioned as being covered by the pass is a Kraken ship pack, additional single player missions, weapons, items and skins, as well as some more multiplayer characters. On the whole, considering the reputation season passes have, this doesn't sound like too bad a deal.

Ubisoft also revealed a trailer revealing that Aveline, of Assassin's Creed III: Liberation fame, is going to feature in several missions in the upcoming fourth title. These missions will be exclusive to the PlayStation 3 and 4 versions of the game.

Aveline will be older than she was in her game and her missions will constitute about an hour's worth of content. Since Black Flag takes place before the third game, chronologically, it's not yet known how her tale will play into the larger plot. Perhaps she and Edward Kenway have a common descendant who will relive their lives in the present day.

Assassin's Creed IV: Black Flag will be released in November on the PC, Xbox 360, Xbox One, PlayStation 3, PlayStation 4 and Wii U.