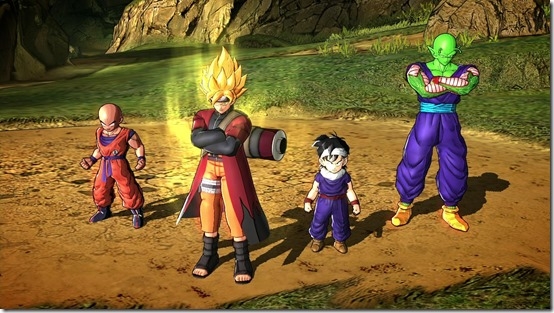 Dragon Ball Z has a large catalog of titles that are best described as a mixed bag of rehashed stories, gameplay, and characters that fans can't seem to get enough of. So when Battle of Z was announced, a fully four player co-op 3D fighter that even includes the most recent of movies, it seemed that Namco Bandai was ready to breathe some new life into a tired catalog of games.

It's very noticeable how far the cel-shaded graphics have come, as Battle of Z is simply the best looking game they've made to-date. It looks just like the most recent movie, Super Saiyan God, with a great amount of attention given to animations and fine details, such as realistic hair and clothing movement throughout gameplay, and not just cutscenes. Lighting is well done, with power bursts and ki charging casting deep and flickering shadows, bringing each character further to life, as well as making the vibrant and beautiful surroundings vigorously pop off the screen. Sound work is also top notch, as it is with most DBZ games, featuring all of the wonderful English dub actors, as well as all the iconic energy blasts and Kamehamehas booming from the speakers with force. Yet, where nearly every recent release is able to create the spectacle that is Dragon Ball Z, the gameplay tends to get stale rather quickly, and right now, it looks like Battle of Z is no exception...

You can read the rest at the source below.
Related Brainwaves
11th September

Everybody's Gone to the Rapture has topped the PlayStation 4 European PlayStation Store charts for the month of August. FIFA 15 claimed the top spots...

15th May

Sony has revealed the top selling games on the PlayStation Store in Europe for the month of April. Mortal Kombat X topped the PlayStation 4 charts, while...

15th September

In a move that will cause the minds of anime fans the world over to cave in out of sheer fanboy love, the upcoming Dragon Ball Z: Battle of Z will be returning...
Trending Articles
4th February

Borderlands 2 has some of the most enjoyable writing of a game released this generation, thanks to lead writer Anthony Burch (Hey Ash, Whatcha Playin'?)....

6th January

When it comes to video games with deep stories, huge open worlds, and complex battle systems, nothing comes close to the RPG. Few genres are more diverse...

16th October

Pokemon X & Y released worldwide on Saturday to the joy of millions - 4 million of whom purchased the game within the first two days. However, some of...

18th June

Legendary Game Designer Shigeru Miyamoto has told Kotaku that he feels that he made a bad game. Shigeru Miyamoto is famous for games like Metroid, Star...

2nd February

World Series Of Poker Hack can generate unlimited Chips and Cash. http://tricksgamesonline.com/2017/02/02/world-series-poker-hack-chips-generator/ http://tricksgamesonline.com/2017/02/02/world-series-poker-hack-chips-generator/ About...