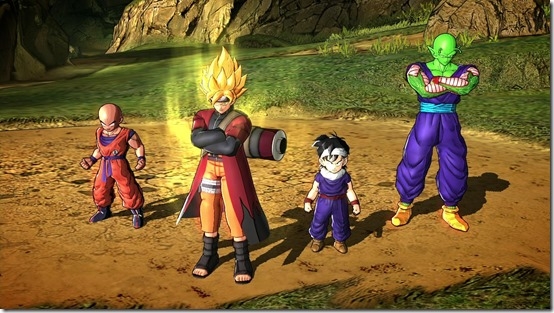 Dragon Ball Z has a large catalog of titles that are best described as a mixed bag of rehashed stories, gameplay, and characters that fans can't seem to get enough of. So when Battle of Z was announced, a fully four player co-op 3D fighter that even includes the most recent of movies, it seemed that Namco Bandai was ready to breathe some new life into a tired catalog of games.

It's very noticeable how far the cel-shaded graphics have come, as Battle of Z is simply the best looking game they've made to-date. It looks just like the most recent movie, Super Saiyan God, with a great amount of attention given to animations and fine details, such as realistic hair and clothing movement throughout gameplay, and not just cutscenes. Lighting is well done, with power bursts and ki charging casting deep and flickering shadows, bringing each character further to life, as well as making the vibrant and beautiful surroundings vigorously pop off the screen. Sound work is also top notch, as it is with most DBZ games, featuring all of the wonderful English dub actors, as well as all the iconic energy blasts and Kamehamehas booming from the speakers with force. Yet, where nearly every recent release is able to create the spectacle that is Dragon Ball Z, the gameplay tends to get stale rather quickly, and right now, it looks like Battle of Z is no exception...

You can read the rest at the source below.
Related Brainwaves
15th September

In a move that will cause the minds of anime fans the world over to cave in out of sheer fanboy love, the upcoming Dragon Ball Z: Battle of Z will be returning...
Trending Articles
3 days ago

Upcoming racing sim Project Cars has officially been delayed, distributor Bandai Namco confirmed earlier today. The delay will push the game's release...

3 days ago

343 Industries have revealed that players will need to download a day one patch of 20GB in order to play Halo: The Master Chief Collection when it launches...

3 days ago

Final Fantasy XIII was originally planned as a grand creation spanning three different games with varying styles of play. The first came out as planned,...

19 hours ago

Years before EA's planned re-imagining of the franchise with DICE at the helm, Star Wars: Battlefront 3 was being developed by Free Radical Design. The...

20 hours ago

Limbo, the critically acclaimed indie game that came out for the Xbox 360 back in 2010, and which was subsequently released on PlayStation 3, PC, Mac,...