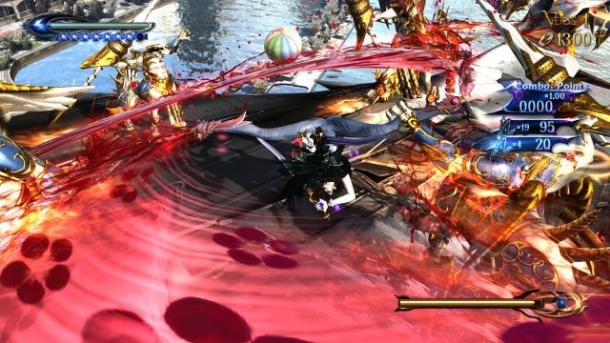 Without Microsoft or Sony at New York Comic Con this year, Nintendo basically has the show to itself, save for the Ubisoft and the DC lineup of games. With all of the major upcoming releases available for demos, nothing had a longer line than Bayonetta 2, and rightfully so. It's certainly looking bigger, faster, better and a whole lot more visceral than its predecessor. This could actually be a title that will help boost the Wii U's meager sales, the "killer app" as they say.

The demo throws the player right into the action aboard a flying ship swarmed with demons, then transitions into a runaway train being chased by an enormous hell spawn, and finally ends with one of the new flying sequences with Bayonetta sprouting wings. It holds the same ultra fast paced style of the original, and kicks it up another notch. The level transitions are a great way to keep action fast and unique, providing different ways to evade and battle the demon forces, as well as introducing new abilities, like Bayonetta's wings. Where some 3rd person flying sequences can become chaotic, the camera stays focused and keeps the action from becoming hard to follow...

To read the rest check out the link below.