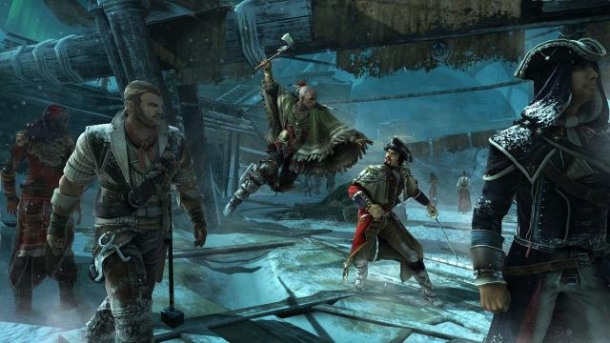 While Microsoft or Sony didn't have dedicated exhibits at New York Comic Con, Ubisoft picked up the slack by offering up the PlayStation 4 version of Assassin's Creed IV: Black Flag. While only the multiplayer Game Lab was offered, and was restricted to ranked play throughout each day at Comic Con that offered the chance to win a PlayStation 4, XBox One, and an extremely high end gaming PC, I came away thoroughly impressed with my first next-gen experience.

Picking up the controller and selecting my character was one of the highlights of my experience, and that's not meant to be tongue-in-cheek. Watching the facial expressions on characters was mesmerizing, every part of each face was highly detailed and defined, and hair and clothing hung and flowed naturally. Running round the demo level showcased a beautiful dock and surrounding town, with textures popping off buildings due to fantastic lighting, individual blades of grass can easily be seen and sway in the wind with trees and leaves, and the game overall looks far superior to its PlayStation 3 counterpart. Movement and animations are also extremely smooth and the glitches that plagued Assassin's Creed III seem to have been addressed, and no hiccups with distant or invisible buildings or trees are apparent, another great improvement over past iterations...

To read the full preview check out the link below.