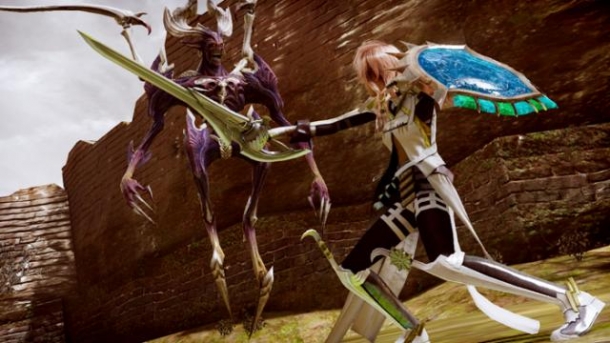 Think back to the beginning of the current generation. At the time, Final Fantasy XIII was one of the most desired and graphically stunning titles. Back then who would have thought its release would garner such a mixed response from fans and spawn not one but two sequels? Lightning Returns Final Fantasy XIII is the third and supposedly final entry in Lightning's Saga. I had a chance to check out a demo of the game at Square Enix's pre-NYCC event.

Lightning Returns Final Fantasy XIII takes place 500 years after the events of FFXIII-2. Lightning awakens from her long sleep to discover that the world will be ending in 13 days' time. This starts her off on a quest to save as many souls as possible in that time. The demo started a few hours into the game with Lightning arriving at a small farm village. There she hears a story about a legendary white chocobo known as the "Angel of Valhalla." At the prompting of a Dr. Ghysal she sets off into the Wildlands to rescue the Angel of Valhalla from a monstrous Chocobo Eater...

To read the full preview check out the link below.
Trending Articles
2nd February

World Series Of Poker Hack can generate unlimited Chips and Cash. http://tricksgamesonline.com/2017/02/02/world-series-poker-hack-chips-generator/ http://tricksgamesonline.com/2017/02/02/world-series-poker-hack-chips-generator/ About...

5th November

Fallout: Shadow of Boston and Fallout: The Ultimate Collection trademarks have been filed at the German patent office. The Office for Harmonization in...

6th January

When it comes to video games with deep stories, huge open worlds, and complex battle systems, nothing comes close to the RPG. Few genres are more diverse...

21st September

Gamers have found a new player vs player playlist and a new planet buried in Destiny's source code. The playlist is called Tales of Osiris and will take...

30th October

Download Link: http://www.fileworld.info/outil-triche/telecharger-geometry-dash-outil-de-piratage-android-ios-comment-pirater-geometry-dash-triche/ Hello...