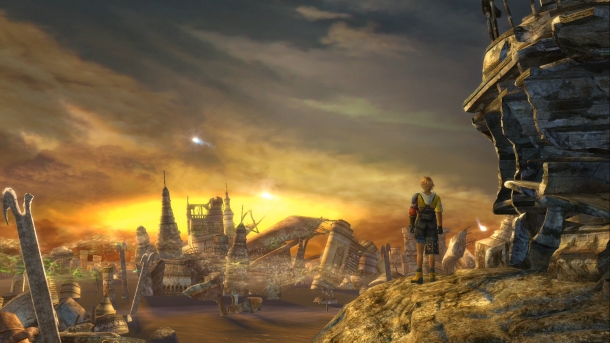 It exists. I played it. After endless months of speculation I can confirm that Final Fantasy X/X-2 HD Remaster is an actual game that Square Enix actually plans on releasing in western markets. I had a chance to play the game at an exclusive Square Enix press event for New York Comic-Con.

I played the opening minutes of Final Fantasy X, which still feels as immense and epic as it did back in 2001. The Conditional Turn Based battle system is still really intuitive and easy to get into. Tidus and Auron battle their way through a horde of pod monsters falling from the sky. When your characters take a significant amount of damage you may be able to unleash an Overdrive attack. These replaced the traditional Limit Breaks of past games with interactive button prompts that tested your reflexes. The opening segment of the game ends with a spectacular bridge collapse and subsequent boss battle that helped me appreciate how fast the game upped the stakes. I decided to end my hands on as Tidus gets sucked up and transported to the world of Spira...

To read the full preview check out the link below.
Related Brainwaves
17th December

Previously, the Vita versions of Final Fantasy X and X-2 HD were left in the lurch with an unspecified release date. Today that fate changed for the HD...

9th July

Sony has announced a special Limited Art Book Edition of the upcoming Final Fantasy X and X-2 HD remakes. This version of the game will only be available...

19th March

In 2001, Final Fantasy X was met with critical success for its amazing graphics and detailed facial expressions. So much so that in 2003 a direct sequel,...
Trending Articles
1 day ago

The first of Mario Kart 8's two DLC packs is expected to land next month. We already knew that it would include the following: Three new characters...

23 hours ago

Lara Croft and The Guardian of Light was a refreshing change of pace for the Tomb Raider series. Rather than following Lara around from a third person...

21st September

Gamers have found a new player vs player playlist and a new planet buried in Destiny's source code. The playlist is called Tales of Osiris and will take...

17 hours ago

Phil Spencer, head of Microsoft's Xbox Division, previously announced that screenshot functionality would be coming to the Xbox One soon. However, in...

2 days ago

Sid Meier's Civilization V will be free to play on Steam until the 23rd of October. The promotion is designed to drum up excitement for Firaxis' latest...