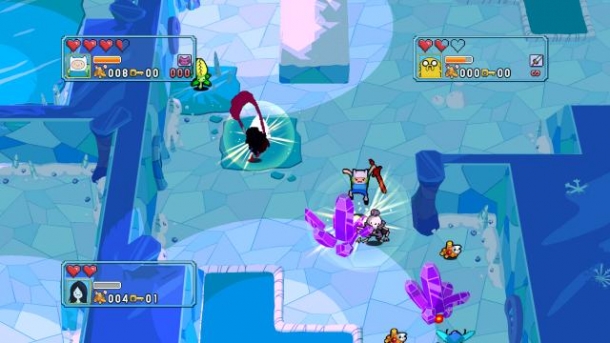 Adventure Time is the type of show that's immensely popular with people of many ages. I can't exactly call myself a fan of the show, but I always enjoy it when I catch an episode here or there. At New York Comic Con, Adventure Time: Explore the Dungeon Because I Don't Know! was on display, and I was instantly charmed by this delightful dungeon crawler that features many aspects of the old school Gauntlet arcade games.

Hopping into Adventure Time was like seeing an old friend after a long period of time, as it boasts an old school, pixelated visual style that resembles the old Gauntlet games before they reached their 3D days in the Gauntlet Legends series. It fits the overall Adventure Time persona incredibly well, as the entire series is an homage to video and table games of old. The game's dungeons range different locales of icy caverns, dark dungeons, and fiery death traps underneath the Land of Ooo, each holding a charming sense of nostalgia, as well as staying true to the series...

To read the full preview check out the link below.