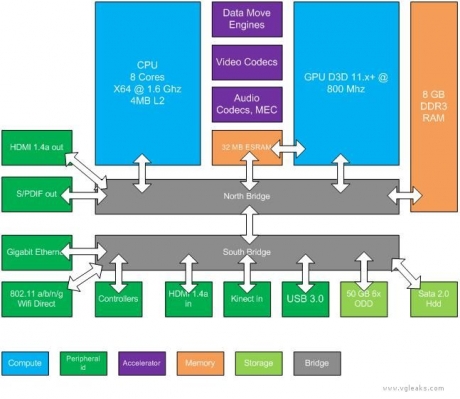 As we promised during the weekend in the next weeks we will unveil Durango and Orbis. All the technical info you want to know about the next generation machines from Sony and Microsoft.

The first one is Durango. In this article we present the system overview with the general components and some technical details about them.

How are durango components connected?

Above you can see the Durango system block diagram.

Let's check what's inside the box:

CPU:

- x64 Architecture
- 8 CPU cores running at 1.6 gigahertz (GHz)
- each CPU thread has its own 32 KB L1 instruction cache and 32 KB L1 data cache
- each module of four CPU cores has a 2 MB L2 cache resulting in a total of 4 MB of L2 cache
- each core has one fully independent hardware thread with no shared execution resources
- each hardware thread can issue two instructions per clock

GPU:

- custom D3D11.1 class 800-MHz graphics processor
- 12 shader cores providing a total of 768 threads
- each thread can perform one scalar multiplication and addition operation (MADD) per clock cycle
- at peak performance, the GPU can effectively issue 1.2 trillion floating-point operations per second

High-fidelity Natural User Interface (NUI) sensor is always present

Storage and Memory:

- 8 gigabyte (GB) of RAM DDR3 (68 GB/s)
- 32 MB of fast embedded SRAM (ESRAM) (102 GB/s)
- from the GPU's perspective the bandwidths of system memory and ESRAM are parallel providing combined peak bandwidth of 170 GB/sec.
- Hard drive is always present
- 50 GB 6x Blu-ray Disc drive

Networking:

- Gigabit Ethernet
- Wi-Fi and Wi-Fi Direct

Hardware Accelerators:

- Move engines
- Image, video, and audio codecs
- Kinect multichannel echo cancellation (MEC) hardware
- Cryptography engines for encryption and decryption, and hashing

What do you think?
Trending Articles
21st September

Gamers have found a new player vs player playlist and a new planet buried in Destiny's source code. The playlist is called Tales of Osiris and will take...

4th February

Borderlands 2 has some of the most enjoyable writing of a game released this generation, thanks to lead writer Anthony Burch (Hey Ash, Whatcha Playin'?)....

6th January

When it comes to video games with deep stories, huge open worlds, and complex battle systems, nothing comes close to the RPG. Few genres are more diverse...

5th November

Fallout: Shadow of Boston and Fallout: The Ultimate Collection trademarks have been filed at the German patent office. The Office for Harmonization in...

16th February

Yu-Gi-Oh! Duel Generation Hack Tool Get Free Unlock All Pack and Deck, tool works on Android and iOS (iPhone, iPad, iPod Touch), download tool Hack Tool...