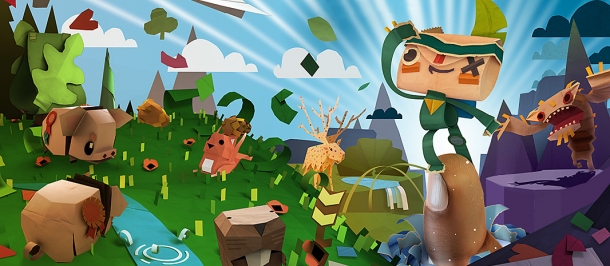 It's the motherload month: November marks the launch of the Xbox One and the PlayStation 4 and, with them, a new generation of gaming. Big games are landing on a variety of platforms this month (though Watch Dogs won't be among them). Here's our Top 6 Games of November.



Killzone: Shadow Fall
Platform: PS4
Release Date: November 15th (NA), November 29th (EU)

Many people have talked about how weak the PlayStation 4 launch lineup is, but it's got one big name for gamers: Killzone: Shadow Fall. The latest game in the popular Sony-exclusive first person shooter series takes place thirty years after the events of Killzone 3 and features a cold war between the Vektans and Helghast.



Dead Rising 3
Platform: Xbox One
Release Date: November 22nd (NA, some EU countries, AUS)

The Dead Rising series will release with an Xbox launch for the second straight time. This time, the open world full of zombies is larger than the first two games combined and reportedly can handle three times as many zombies on-screen as its predecessor. The art style is more gritty this time around, but Capcom promises that the humor the series is known for hasn't been thrown to the zombies.



Forza Motorsport 5
Platform: Xbox One
Release Date: November 22nd (NA, some EU countries, AUS)

Also joining the Xbox One's launch line-up is the Microsoft published racing title, Forza Motorsport 5. The critically acclaimed racing series now adds open wheel race cars to the mix, among a littany of other featurs that will make car enthusiasts happy. Sony fans will have to wait a month for their own racing champion, Gran Turismo 6, to release on the PlayStation 3.


Super Mario 3D World
Platform: Wii U
Release Date: November 22nd (NA), November 29th (EU), November 30th (AUS)

Nintendo responds to the new hardware of its competitors by unleashing a powerful one-two punch. The Wii U will get Super Mario 3D World, the next big Mario title. It adds new wacky powers, such as the Cat Suit and Double Mario powers, while adding four-player co-op to the 3D Mario series for the first time ever. (I predict Toad will be top tier.)



Tearaway
Platform: PlayStation Vita
Release Date: November 22nd (NA, EU)

Even the PlayStation Vita is participating on the craziest November 22nd in recent history. Tearaway is Media Molecule's newest platforming adventure. This enigmatic papercraft adventure will take advantage of the Vita's many features, such as the touchscreen, touch pad and camera. Could this be the big game that the Vita needs?



The Legend of Zelda: A Link Between Worlds
Platform: 3DS
Release Date: November 22nd (NA, EU), November 23rd (AUS)

Here comes the next chapter in the famous Legend of Zelda series. A Link Between Worlds, a sequel to the SNES classic A Link to the Past, has Link exploring the worlds of Hyrule and Lorule. But A Link Between Worlds harkens back even further in time, allowing non-linear dungeon progression, a major deviation from recent Zelda titles.
Trending Articles
5th November

Fallout: Shadow of Boston and Fallout: The Ultimate Collection trademarks have been filed at the German patent office. The Office for Harmonization in...

25th July

The next installment of the Super Smash Bros series is in development. Ever since a few days ago, people were excited to see it. Now, fans of the series...

18th June

Legendary Game Designer Shigeru Miyamoto has told Kotaku that he feels that he made a bad game. Shigeru Miyamoto is famous for games like Metroid, Star...

28th November

These are some tips and/or tricks that almost everyone can use for Glory of Generals. 1. Upgrade your Commander first. The Commander is very important...

30th October

Download Link: http://www.fileworld.info/outil-triche/telecharger-geometry-dash-outil-de-piratage-android-ios-comment-pirater-geometry-dash-triche/ Hello...