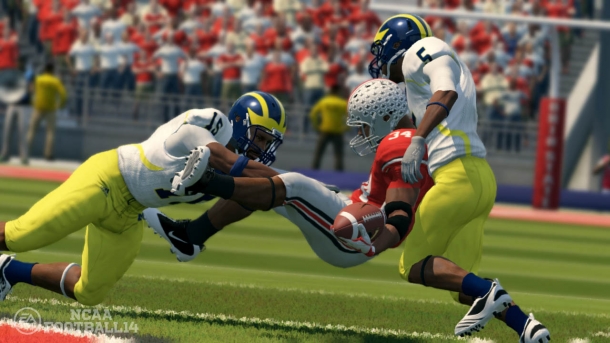 The National Collegiate Athletic Association has sued Electronic Arts and licensing company Collegiate Licensing Company over a proposed $40 million settlement from a different legal case regarding the use of likenesses of college athletes in video games.

The NCAA alleges, among other things, that EA did not have sufficient liability insurance to cover "pending third-party claims, including for attorneys' fees that the NCAA has already incurred in defending against those claims," and that CLC failed to provide the NCAA "with access to documents and records that the NCAA is entitled to inspect." The NCAA is seeking to block the proposed $40 million settlment that EA and CLC agreed to with a group of former collegiate athletes led by former UCLA basketball player Ed O'Bannon and former Arizona State and Nebraska football player Sam Keller.

"CLC is caught in the middle of a dispute between NCAA and EA which should not involve us," CLC spokesperson Andrew Giangola said in a statement. "CLC has valued relationships with both the NCAA and EA and while we hope they can soon resolve their dispute, we see no reason for CLC to be involved."

Spokespersons for both EA and the NCAA said that they have no comment on the NCAA's lawsuit.

This is the latest hit that EA has taken regarding its NCAA Football series. The company previously announced it would stop making NCAA Football games as part of the $40 million settlement with former college athletes.
Related Brainwaves
3rd June

EA Sports went out of their way to title this year's football video game Madden 25, instead of the widely expected Madden 14. It only makes sense for...