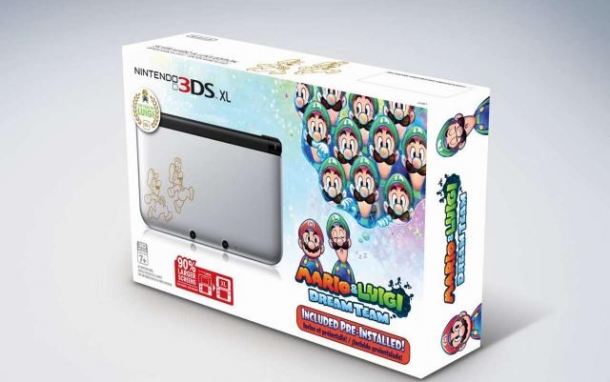 Yes, that's right, there's yet another bundle in the wilderness of the consumer market. Nintendo of America has released a new silver Nintendo 3DS XL bundle across the United States, featuring Mario and Luigi on the back of the top screen and the latest Mario RPG, Mario & Luigi: Dream Team, pre-installed on the system. The system retails for $200, though Best Buy is currently offering it for $180.

If you're interested in this bundle, check out our review of Mario & Luigi: Dream Team. If that's not the bundle for you, perhaps you might consider the Luigi's Mansion: Dark Moon 3DS bundle for $170 or the Legend of Zelda: A Link Between Worlds Gold 3DS XL bundle for $220.

Trending Articles
25th July

The next installment of the Super Smash Bros series is in development. Ever since a few days ago, people were excited to see it. Now, fans of the series...

4th February

Borderlands 2 has some of the most enjoyable writing of a game released this generation, thanks to lead writer Anthony Burch (Hey Ash, Whatcha Playin'?)....

5th November

Fallout: Shadow of Boston and Fallout: The Ultimate Collection trademarks have been filed at the German patent office. The Office for Harmonization in...

18th June

Legendary Game Designer Shigeru Miyamoto has told Kotaku that he feels that he made a bad game. Shigeru Miyamoto is famous for games like Metroid, Star...

16th February

Yu-Gi-Oh! Duel Generation Hack Tool Get Free Unlock All Pack and Deck, tool works on Android and iOS (iPhone, iPad, iPod Touch), download tool Hack Tool...