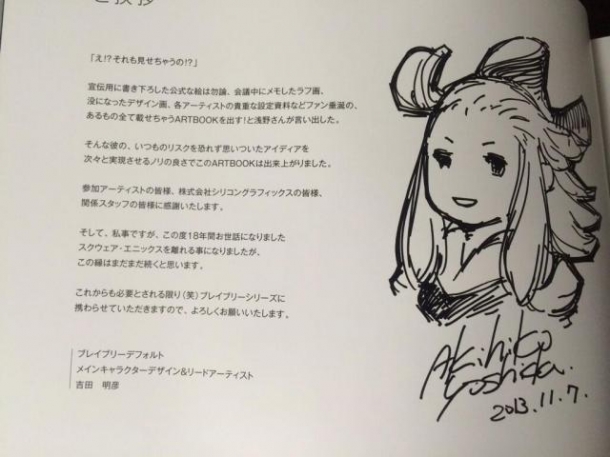 Akihiko Yoshida, well known as a character designer for games such as Final Fantasy Tactics, Tactics Ogre and Bravely Default has announced that he is leaving Square Enix.

Yoshida made his announcement in a personal message within the Bravely Default art book, which released today in Japan along with Bravely Default: For the Sequel (a re-release of the original Bravely Default). After thanking the artists and his co-workers at Silicon Graphics, Yoshida broke the news in the above message (translated by Siliconera).

"This is a personal message of mine, but I'd like to say thank you for all the support these past 18 years. I have decided to leave Square Enix, but I believe our relationship will continue going on.

And as long as I'm needed [laughs,] I will continue working on the Bravely Default series. Thank you for your continued support.

Bravely Default main character designer & lead artist,

Akihiko Yoshida

It is currently unknown if Yoshida will be working on the recently announced Bravely Default sequel, Bravely Second, but given what he said in his farewell message, it wouldn't be a surprise to see him contributing to the game.

Bravely Default is available in the EU today (September 6th), Australia on September 7th and North America on February 7, 2014.