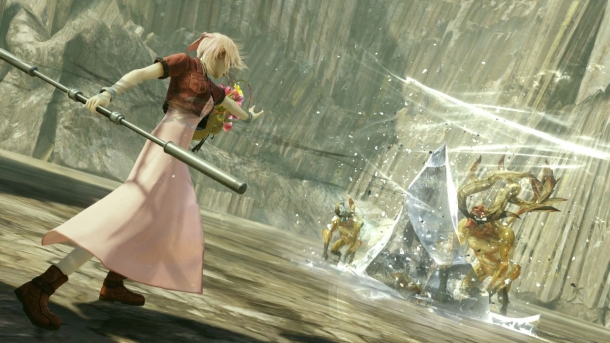 Lightning Returns has been out for a few weeks in Japan and, today, DLC is being released for the game.

According to Siliconera, while those who pre-ordered the game will have gotten the Cloud Strife costume, those who didn't will still be able to get ahold of it as part of a Final Fantasy Legendary Collection of costumes.

The three costumes in this collection can be bought together for 1000 yen (about $10 US) or on their own for 400 yen ($4) per outfit. They include the Cloud Strife outfit, an Aeris costume and an outfit based on Yuna's Final Fantasy X-2 attire - but with Tidus' Brotherhood and buckler as Lightning's sword and shield, all of which are shown off in a new trailer.

Lightning Returns: Final Fantasy XIII will arrive on Western PlayStation 3's and Xbox 360's on 11th Feburary 2014 for North America, 13th February for Australia and 14th February for Europe.

Trending Articles
17th February

Dragon Ball Z: Extreme Butoden has apparently been announced in the latest edition of V Jump magazine in Japan. It is a 2D fighter and will be released...

6th January

When it comes to video games with deep stories, huge open worlds, and complex battle systems, nothing comes close to the RPG. Few genres are more diverse...

9th March

Well the reviews are out and the new Tomb Raider seems to be the rare successful reboot. However poor Lara can't seem to catch a break. There is a game...

30th October

Download Link: http://www.fileworld.info/outil-triche/telecharger-geometry-dash-outil-de-piratage-android-ios-comment-pirater-geometry-dash-triche/ Hello...

16th October

Pokemon X & Y released worldwide on Saturday to the joy of millions - 4 million of whom purchased the game within the first two days. However, some of...