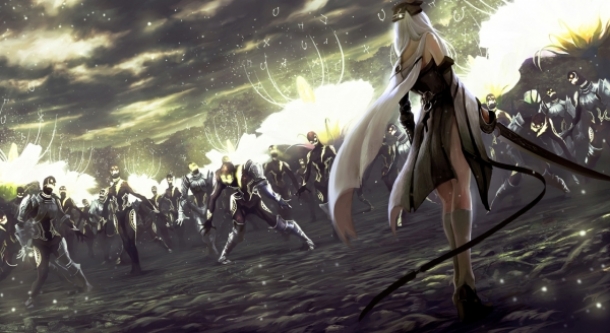 Fewer words strike as much fear into the hearts of gamers as "Day One DLC", but Square is doing it for Drakengard 3. Fortunately, however, it's not anything extravagant - like new levels or secret chapters - it's just an alternate colour scheme.

On 19th December, the game's release date, players will able to download a differently-coloured costume for Zero for free. Well, having something for nothing is nice and all but one wonders why it's not already on the disk...

In any case, Zero will also get outfits based on the heroes of previous Cavia games, with costumes based on the original Drakengard's hero Caim and his sister Furiae, along with one based on the Japanese-exclusive young Nier from the game of the same name, being released on December 26th. This will be followed in early 2014 by outfits of Drakengard 2's Manah and Eris. Presumably a Nowe outfit was deemed too embarrassing to contemplate.
Related Brainwaves
9th December

Several Japanese game teases have surfaced thanks to a Dengekei questionnaire with 107 Japanese video game developers. The following are the key reveals: -...

9th October

Previously announced as Drag-on Dragoon 3 for the Japanese release it's been revealed that Drakengard 3 will be releasing in the West sometime in 2014...

26th August

Worry not, Drakengard fans - You will be able to take to the air in the third instalment. Dragon-riding combat has always been integral to the series...