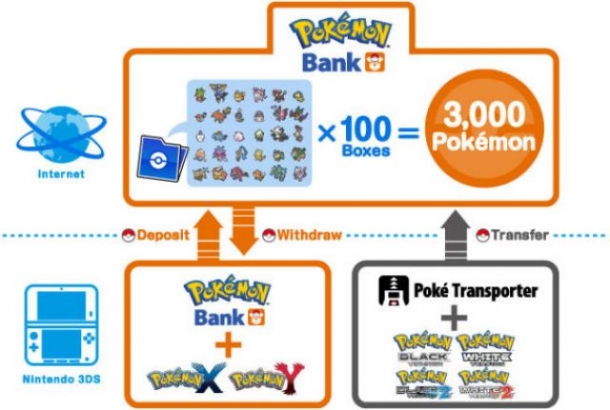 Earlier in the year, Pokemon fans were gifted with a wonderful bit of news: Nintendo planned on releasing an online Pokemon bank that allowed avid fans to transfer Pokemon from earlier games to Pokemon X/Y and beyond. Today, we learned of the additional bonuses being offered as well as some nice features for those serious about investing in the service.

The Pokemon Bank will be officially released for the Nintendo 3DS on December 27th 2013. This service allows the user to transfer their Pokemon collection from their DS and 3DS titles to an online bank for permanent, versatile storage. Previously, a player's Pokemon would only be able to be downloaded to Pokemon X/Y, as well as future titles, but today's Nintendo Direct confirmed that players will be able to download from the bank onto their Pokemon Black/White and Pokemon Black/White 2 games as well.

While the service costs a mere $4.99 US per year, quick users can get a free 30 day trial if they download the app between its launch on December 27th and December 31st; the truly speedy can probably do all the transferring they need in that period.

In addition, Nintendo is offering a free legendary Pokemon Celebi to all who sign up for the service before September 30th 2014. This includes those who only opt for the 30 day trial at the end of this year.

Trending Articles
3 days ago

An indie game called Hatred was revealed earlier today. Currently being developed by a new indie studio called Destructive Creations, Hatred is an isometric...

21st September

Gamers have found a new player vs player playlist and a new planet buried in Destiny's source code. The playlist is called Tales of Osiris and will take...

3 days ago

343 Industries have revealed that players will need to download a day one patch of 20GB in order to play Halo: The Master Chief Collection when it launches...

23 hours ago

343 Industries have replied to fan complaints concerning Halo: The Master Chief Collection's requirement of a 20GB day one patch. In a post on NeoGAF,...

23rd September

Ubisoft revealed today Assassin's Creed Chronicles: China, an entirely new downloadable Assassin's Creed game, featuring 2.5 side-scrolling gameplay and...