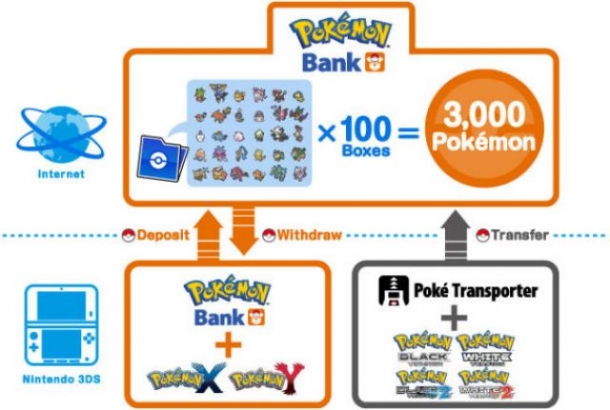 Earlier in the year, Pokemon fans were gifted with a wonderful bit of news: Nintendo planned on releasing an online Pokemon bank that allowed avid fans to transfer Pokemon from earlier games to Pokemon X/Y and beyond. Today, we learned of the additional bonuses being offered as well as some nice features for those serious about investing in the service.

The Pokemon Bank will be officially released for the Nintendo 3DS on December 27th 2013. This service allows the user to transfer their Pokemon collection from their DS and 3DS titles to an online bank for permanent, versatile storage. Previously, a player's Pokemon would only be able to be downloaded to Pokemon X/Y, as well as future titles, but today's Nintendo Direct confirmed that players will be able to download from the bank onto their Pokemon Black/White and Pokemon Black/White 2 games as well.

While the service costs a mere $4.99 US per year, quick users can get a free 30 day trial if they download the app between its launch on December 27th and December 31st; the truly speedy can probably do all the transferring they need in that period.

In addition, Nintendo is offering a free legendary Pokemon Celebi to all who sign up for the service before September 30th 2014. This includes those who only opt for the 30 day trial at the end of this year.

Trending Articles
2 days ago

Alien: Isolation's first DLC pack - Corporate Lockdown - is set to release just under a week from now, on 28th October. In what is set to be the first...

1 day ago

Lara Croft and The Guardian of Light was a refreshing change of pace for the Tomb Raider series. Rather than following Lara around from a third person...

5 hours ago

Codemasters have announced Toybox Turbos, a downloadable table-top racer for Xbox 360, PlayStation 3 and Windows PC. Clearly inspired by the incredibly...

1 day ago

Grand Theft Auto: San Andreas, which turns 10 years old this month, will be making its way to the Xbox 360's Games on Demand service with 720p resolution...

2 hours ago

PS4's next firmware update (the 'Masamune' update) arrives early next week and will bring with it the Share Play feature. Share Play was actually first...